5 Big Problems About Doing Digital Marketing In-House
Raja
Being a professional entrepreneur does not really oblige you to be successful at digital marketing. Even though you would like to work with your marketing needs, it is quite impossible to achieve it for various reasons.

Digital marketing emphasizes direct communication with the customer or user instead of TV or print advertisements. It is an engagement system which is a compelling channel to create customer loyalty. As we know, digital marketing is a very pocket-friendly way to marketing as compared to other channels, it is not only cost-efficient but also a very effective solution.
But the issue is on whether it should be done in-house or outsourced. There are many digital marketing agencies in the market providing services at different prices. Let's see the challenges faced by the in-house digital marketing team:
1. High Cost
Many small businesses can't manage the cost of the expenses of hiring new employees and also can't afford the risk associated with it. Such investment in the service provider or a non-performer person shows a risk to the business.
By outsourcing your digital marketing task to a marketing agency, you can run your business without risking resources and investing time in an employee who doesn't have the required experience and expertise or is basically a bad fit for the job.
Hiring a new employee may cost around $4,000- $8,000 per month or more also there is a cost of training and giving them required essential benefits also included. On the other hand, if you hire experienced professionals, this cost will also get more increase.
A retail digital marketing agency on the other side, would offer you all types of services at half price and also save lots of efforts in searching for the best fit employees.
2. Time Spent on Marketing Rather Than the Core Business
Digital marketing needs proper time. Choosing the outsourcing team with the latest technologies allows you to focus on the core activities that make your business profitable without giving up the service.
It is also time to recognize that social media is just an effective add-on to your business, but also a modern communication channel straightforwardly to the core of your users and audience. But think what? The way toward using social media channels appropriately is an all day job.
It needs lots of phone time, creativity, ideas, and digital tools. Social channels never rest it is a powerful lead generating resource when utilized properly, but it is very simple to let it slip and be nibbled on the backside. There are many active channels all require different techniques and strategies.
All with quick moving revolutionary and evolutionary updates. In order to implement all these technological advancements and for the proper utilization of social media channels you must outsource your marketing task to a professional digital marketing agency.
3. Lack of Experience/Expertise
In the present economic environment, searching for the best talent can be tough. Truth be told, more than 40% of the market leaders state they can't find a perfect combination of people and skills. Employing just one person can be very challenging, envision making an entire team of marketing.
You also require considering the diverse set of abilities required to make a successful marketing campaign. Such expertise includes SEO, design and production, market research and analysis, writing and editing among others.
We all realize that the handyman is an ace of none. In this way, a single employee in most of the cases doesn't possess this broad skill set and you will end up hiring more than one individual.
In contrast, there are many agencies having such a set of skills at a single pace and can manage all your marketing tasks of your business. This implies that for a fixed cost, either on a retainer agreement or for a specific project, you get a qualified team of professionals at your disposal.
Powerful marketing requires knowledge and extensive expertise on different topics and a professional company provides all of that. You can get expert web designers, SEO experts, content writers, social media professionals and more than enough through the specialists.
Hiring an in-house digital marketing team will cost a lot for you and the person may or may not be able to handle the whole marketing needs.
You must have noticed that successful marketing campaigns need a team of experts as it is not possible for a single expert. A digital marketing agency keeps updated itself about the latest trends and comes up with the campaigns utilizing their expertise.
---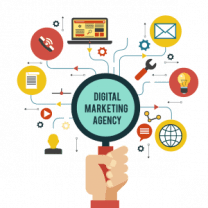 Are You Looking for the Best Outsourcing Digital Marketing Agency?
We are a full-service digital marketing agency, serving B2B & B2C companies with a complete digital marketing solution focus on delivering exceptional ROI and outstanding results.
---
4. Impact of Delay & Failure
Starting an in-house digital marketing team is not an easy task, as you will require managing the things all alone. Moreover, if you utilize an in-house digital marketing team you may not get success to meet the needs and objectives of other business projects efficiently.
Everything will end up being a complete mess. Agencies giving services for web and app development work on a full-time basis on marketing strategies. So, they can work upon it in a much better way and manage things much more efficiently.
5. Access to Tools & Platform
Marketing products and services, is without a doubt, is something that every business owner should invest in order to ensure success. Marketing plays an important role in every campaign as it assists you to achieve lots of knowledge about customer behavior, streamline processes and save your time as well.
There are more than 5000 different tools and hundreds of channels available to marketers. How do you choose them and decide which is the best according to your requirements? Is your in-house team members are trained to work with them?
When you outsource your marketing campaign to a professional agency you can live stress-free about the intangible costs, picking the perfect solution or getting your team trained.
Conclusion
Using references and guides, you may get ready to start your own digital marketing team. However, consider the possibility that you end up with dis-satisfactions. A professional digital marketing agency can manage your advertising campaign farther than your expectations.