Effective Steps to Get Your App Featured on the App Store
Raja
Every app owner wants his app to succeed, and a lot of them immediately make this known from the outset. From initial brainstorming to the actual app development, the amount of time, money, and effort invested affirm this desire. However, many inevitably find out that no amount of quality in your app will guarantee that people will discover it. As if the entire app development process wasn't challenging enough as it is, right? Well, it's because of issues like these that the importance of featured apps become apparent.

Why Do Certain Apps Get Featured?
Apple's policy of featuring apps stem from their desire to establish better relationships with developers. They do this by showcasing the apps that really stand out to them, within a certain duration. This encourages developers to always prioritize quality in their works and maintain that same quality in their future creations. For the sheer amount of jobs and profit that the mobile app industry has produced since its conception, it's only apt for Apple to reward outstanding developers by featuring their apps.
Take note that the guidelines and factors that influence an app's chances to become featured change over time, particularly in every iOS update. For one, Apple now actually considers the user's specific preferences when featuring an app to offer them a more personalized selection. These factors, in turn, greatly dictate the app store optimization strategies that you should apply to ultimately get Apple to feature your app.
Why You Should Always Be Prepared Before Your App Gets Featured?
A number of compelling reasons make up the list of why preparing beforehand is important. Believe it or not, getting featured might actually do harm on your app simply because you didn't come prepared.
Here's why:
If your app isn't ready to handle a sudden increase in users, it might cause frequent crashes. This turn leads to many disappointed and frustrated users leaving a negative review on your app.
The resulting low average rating would then result to a decrease in the app's total amount of users, with most not even bothering to download it. This inevitably leads to a snowball effect that will cause your app's position in the charts to plummet to, basically, oblivion.
More often than not these issues arise because the app owner or developer failed to anticipate these factors, focusing instead on just getting that coveted spot on the top of the charts. These remain the top preliminary steps you should take to ensure optimal ASO.
Important Factors to Always Be Mindful Of
This should be a no-brainer for every serious app developer, but you have to be aware of the exact elements that influence this. For one, having a clean design that works on all devices should be your priority. Think of the fundamentals of UI/UX. Be constant in terms of your font color and style choices; the same applies to navigation bars, buttons, etc. Of course, bugs should be addressed as soon as possible as well.
Also, don't overlook your app's icon because it's been confirmed that Apple is actually quick to notice apps that have eye-catching icons. The icon, after all, serves as a sort of indicator of the potential quality of your app's design. As much as possible, it should promptly reflect your app's interface.
Apps that go the limit in delivering new content, fixing bugs, and responding to user feedback have a higher chance of getting featured. Updates, after all, readily connote improvements, and that's surely one aspect of an app that Apple always puts on a pedestal. Also, apps stay featured longer if their developers are proactive in releasing updates.
Capitalize on this factor by having your app be available in multiple languages. This might involve more work but it could very well be worth the extra traffic and higher chances of getting featured in a specific country's App Store.
The fundamentals of ASO involve keywords, titles, descriptions, and categories, much like SEO. Featured apps often enjoy their position because they pay attention to the keywords they include in their titles and descriptions. Don't go for overly long titles. And more importantly, use tools like AppAnnie liberally to check the quality of the keywords you are targeting.
---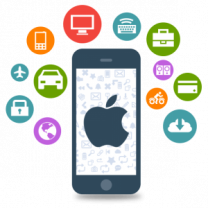 Are You Looking for Dedicated iPhone and iOS App Marketers?
Our experts provide the best app store optimization service to improve your app ranking and visibility. Get your app discovered in the top Search!
---
The importance of ratings was already discussed in the section above, but it's worth knowing how you should be able to keep your app's ratings high. Ratings reflect overall user experience, so you should definitely focus on delivering quality content to your users. Be open to their criticism and hear out and give them the features that they are requesting. This goes a long way in establishing a solid relationship with them.
Use extensions liberally because Apple considers it as a great way to connect apps with other platforms, which is, indeed, very useful for most users. Having them available in your app promptly gives it that badge of convenience and quality.
It's been proven that Apple has an inclination to feature apps that use their API. The same can be said for those that are using the most up-to-date version of Swift. Part of the reason behind this hinges on the fact that Apple also doesn't hesitate to promote their own creations.
Reach Out to App Store Editors
Did you know that you can also make a request to editors have your app be featured by Apple? Applying directly for Apple to feature your app gives you the power to directly influence your app's chances of getting featured, so you should certainly take advantage of this option as well. Just fill out the form in Apple's main site to start.
When applying, try to tell Apple what makes your app very useful to people. Refrain from expounding on your app's functionalities in detail. Instead, talk mainly about its benefits as well as how it's different from the rest of the apps in its category. In short, emphasize its quality.
Establish Solid Relationships with Other Developers
Yes, having a solid connection with your users is always needed, but you should also pay attention to building relationships with your fellow developers. In your local App Store, for instance, you should be active in reaching out to the companies of the apps currently being featured in it.
You might just convince them to introduce you to people who work in Apple, for instance. Don't hesitate to meet with them if they show interest and be sure to have an app that you won't have second thoughts to show to other serious developers.
Conclusion
These app store optimization strategies have helped numerous apps to finally become featured on the App Store. Ultimately, sticking to these guidelines is easier said than done. But for featured apps that enjoy the privilege of the spotlight (and numerous organic users), nothing less can be expected.