Top Features of iOS 13: How It Will Impact iPhone App Development?
Alfred
The advent of iOS 13 brings with it a host of advanced features that really showcase the undeniable lengths that Apple and the iPhone have gone since the device's humble beginnings in 2007. Already, the update is sending ripples of excitement and anticipation in the millions of iOS users worldwide. After all, who could not possibly be keyed up by statements from Apple about iOS 13 features that promise better integration of machine learning and a more advanced AI?
Furthermore, if there's one sure field that would be greatly impacted by the release, it's mobile app development. In fact, we already have an inkling as to how various aspects of the field would be specifically affected by iOS 13's coming. Learn more about it and how it will influence your app development endeavors in the long run by reading further.

A Brief Overview of iOS 13 Features
The update focuses on showcasing more advanced, unprecedented features. It also prioritizes on delivering features that most iOS users have been requesting for a long time. This is why if you're one of them, then this update might just be the one you've been waiting for.
Here's a summative list of what to expect:
1. Dark Mode
Users looking for a way to switch to a darker mode in their UI, this is certainly a feature to look out for. Not only does this mode make nighttime usage more agreeable and pleasant to users' eyes, but it also saves a ton of battery. Of course, it's also not without its aesthetic appeal.
2. Augmented Reality
iOS 13 makes iOS's AR capabilities to the next level with ARKit 3. The platform boasts of better awareness of individuals and the integration of movement while using AR apps. Other totally innovative features include the Reality Composer and RealityKit, which allow you to promptly design and develop your own AR experiences.
3. A Better Siri
It's almost always a given that a Siri update will accompany every iOS update, and iOS 13 is definitely no different. Expect to have access to a Siri that is its most efficient incarnation to date. One particular feature that will catch any Apple user's attention is SiriKit. It practically permits round-the-clock access to Siri, even if your app is currently not running. The Kit builds an extension of Siri to any app you intend to you use, and Siri handles the necessary user interactions for you.
4. Machine Learning
Many app developers will love this update because of Core ML 3. Besides offering more support for more advanced machine learning models, the update also includes train models on-device to maintain relevance and improve search and object recognition. The same applies to face and landmark detection, tracking, image registration, speech recognition, and even analyzing natural language text.
These are but some of the major iOS 13 features that will be delivered on your iOS device once you get the update. Nonetheless, they only form half of what you should be excited about this release, though, because there's really no denying the fact that mobile app development as a whole would also be shaken to the core by the arrival of this update. Looking for the latest iOS app development tips? Then keep the following pointers in mind.
How iOS 13 Impacts Mobile App Development?
With on-device updates being made a possibility in Core ML 3, developers would be able to deliver more personalized features to their apps. Another feature that serves to complement this is Create ML, which practically harnesses the full potential of machine learning to the point that developers would be allowed to create machine-learning models that do not require code at all. This boosts efficiency further, leading to faster development and even unlocking a number of other ways in which developers can exercise their creativity.
Developers can also make the most out of the SiriKit and Apple's AI technology by simply using the feature's capabilities to the fullest. You can just imagine the myriad of tasks that you can relegate to Siri because of this truly useful extension. From accessing visual codes to searches and VoIP to payments, the amount of time you can save and invest elsewhere will no doubt be substantial.
Swift 5 optimizes work for any iOS app development company by focusing on simplifying its language. Besides being one of the easiest languages to learn, Swift 5's unique API improves this characteristic better by limiting the number of language modifications. It's also more stable thanks to better memory access during runtime and support for novel data types.
---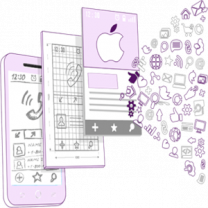 Looking for Experienced iOS App Developers?
We aim to develop next-generation Swift iOS apps that drive the digital enterprise to create more business potential, higher productivity, and emerge new markets.
---
Security remains a top priority in app development. Apple knows this and it certainly shows in its continuous updates. iOS 13 comes with a couple of stricter security guidelines as a result of this. For one, it's now required for all developers to always include only one channel through which users will be able to interact with each other. Additionally, all apps that are developed for iOS 13 to be included in the App Transport Security.
Enterprise App Development
With updates on authentication and privacy features for enterprise platforms, iOS 13 looks to be the best update yet for enterprise app development. It promises better user experiences for employees and an overall more improved user privacy and security. Entrepreneurs and business owners require nothing less than that to ensure smooth operations of their companies, and iOS 13 seems ready to deliver exactly what they need.
Better, More Secure Transactions
Apple Pay improvements in this update ensure better security to accommodate its growing yearly patronage. You need not look for an alternative platform to guarantee smooth and secure transactions in your apps due to this reason alone.
Any experienced iOS app development company is well aware of the potential of cloud-based apps. Businesses now prefer them because cloud integration gives them ready advantages that include consistent access to the tools they need and better data storage capabilities. As a whole, this only ever leads to a smoother operation. Also, it cuts hosting costs significantly, besides providing an uncomplicated dashboard that makes data always within reach and easier to monitor.
Conclusion
Along with its truly innovative features, the improvements to mobile app development that iOS 13 brings are nothing short of game-changing. Ultimately, how iOS 13 impacts users and the said field is only bound to show in the next generation of apps that will be developed using the weighty tools it offers.