Top Holiday App Marketing Tips to Always Help You Capitalize on the Christmas Season
Ruban
As a mobile app marketers, there's no better time to roll up your sleeves and put in the extra elbow grease than the holidays. That additional effort just proves to be worth it every time, especially if you have a well-developed holiday app marketing plan to follow.
Indeed, app marketing during the holidays requires careful preparation, organization and strategizing even if Christmas is still a couple of months away. And, of course, you have to remain consistent every year. The substantial fruits you can reap simply can't be ignored.

With that said, let these expert mobile app marketing tips serve as a potent guide to help you make the most of this season. But before we discuss that, let's take a closer look at the specific holiday marketing benefits every successful app marketer can get from it first.
You Can Enjoy, More or Less, the Following Top Benefits:
Make the most of the guaranteed high volume of downloads and traffic to your app.
Helps you establish a stronger relationship with your users, thanks to the season's generally positive vibe.
Ensures that you won't miss out on the high buying intent of shoppers during Christmas.
Serves as the perfect time to reward your regular users for their loyalty.
Expert Tips for App Marketers to Make a Killing During the Holidays
1. Get Your App All Set
Preparing your app for the holidays comes first, and nothing else, if you want to ensure a successful campaign from the get-go. No ifs or buts. Use a logo appropriate for the season and use attention-grabbing videos and images.
Is your app ready for the expected high influx of traffic? If not, do a stress test on it. This can't be overlooked because the volume can definitely surge to tenfold the usual traffic your app normally gets. The app should able to maintain all functionality even with the higher load. Furthermore, device compatibility across all platforms should be verified too.
2. Check Your App Store Optimization
While this is arguably a given all year round, it will not hurt to double-check your App Store Optimization before the holidays. Research the exact terms that will be compatible with your niche, with the Christmas season in mind.
Who knows? There may be certain keywords you haven't discovered that should be included in your updated description. All your ASO efforts should have one goal: to help your app be found by the right audience. Considering the huge traffic volume during the holidays, this especially applies to this season.
3. Bring Christmas Cheer With Holiday-Themed Push Messages
Push messages about the holidays always catch every one's fancy. These snippets give you plenty of opportunities to set the right tone for the coming holiday season. It serves as a great way for you to connect with them more intimately, without sounding sales-y outright.
Of course, do not limit yourself to just spreading Christmas cheer. Use push notifications to the best of their ability by announcing your promos through them. Consistently utilize its potent ability to spread valuable information about your app to everyone currently using it. Got new and exciting updates? Then be sure to let them know about it by sending them these notifications.
---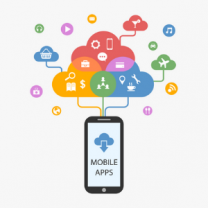 Get Our Experts App Promotion Ideas for Christmas Holidays!
Give your brand a holiday refresh and redesign your app icon using Christmas colors, images, or another recognizable holiday element to drive your app installs and grow the in-app purchases.
---
4. Come Up With and Offer Fitting Promotions
This largely depends on the niche you are in. But if you have a solid inkling of what your users will love, then this shouldn't be much of a problem. Generally, app owners opt to give out in-app sales. However, if you can come up with your own promos that you know your users will promptly seize then go for it.
Use social platforms to promote these offers. Build the hype and keep them on their toes. Once revealed, make sure all your followers know about it and encourage them to spread it.
5. Seize Every Opportunity the Season Presents
There are plenty of times during the holidays that offer great chances to either get more traffic or convert better. Statistics readily reveal this. For one, plenty of people tend to make purchases during the weekends. The same rings true to specific events that tend to happen over the course of the holidays.
Develop a calendar to keep you reminded of the best times to offer your deals. Inform your users about these schedules as well, if you are not going to make them privy to the calendar you will create.
6. Use Customer Analytics and Insights to the Fullest
Your analytics data should give you a clear picture of who your users are and what they want. Examine these insights closely so you will know how to formulate your mobile app marketing strategy. What are their goals for next year and how will you be able to help them achieve it with your app's aid? If you are in the retail business, the sky is practically the limit for this.
To boost user engagement, pay closer attention to in-app usage. Discover the exact duration or sections in your app when most users opted to close or discontinue using it. Once you have noted them, address them by making positive changes. All the better if you read and listen to customer feedback. Data shows that a lot of users give apps that improve or deliver what they want a second chance.
Conclusion
Central to these mobile app marketing tips is the importance of preparation. Without it, not only will your campaigns fall short but it might ultimately fail from the outset. For any smart marketer that wisely anticipates this year in and year out, it is almost an automatic thing. Still, it needs to be asserted.
Ultimately, the amount of preparation you do already affirms and reveals how seriously you will be taking your campaigns come the season of giving. The majority of the tips shared here virtually revolve around it so we hope you will find them useful for coming up with a sound plan to execute.