An Updated Guide to Optimizing Google My Business
Ruban
Online business citations and listings provide business owners with a great way to promote their respective companies to larger audiences, and what's great is that they often come without any additional cost. Indeed, Google My Business (GMB) only proves how certain free tools could prove to be indispensable for any online marketers. All businesses want visibility and GMB, once utilized to the fullest, can provide generous amounts of it.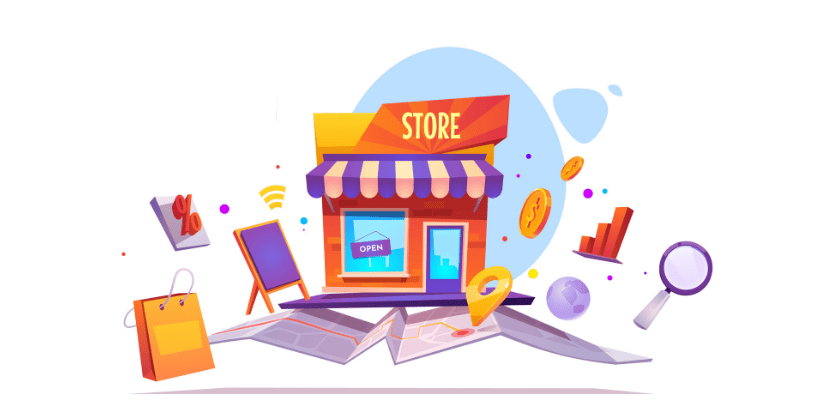 Most of GMB's impact derives from its direct connection to local search. Local search has been burgeoning to greater heights these past few months simply, and believe it or not, the coronavirus pandemic is largely responsible for it. Even before the pandemic happened, user trends have already shown a preference for local searches, which often deliver business listings especially if they connote high buyer-intent.
This is why if you think your GMB listing is not yet in tip-top shape, then it's certainly high time to make it that way. It won't really take much time and effort as long as you know what to do. Feel free to learn about what steps to take by reading our updated GMB optimization guide below.
Essential Tips for GMB Optimization
1. Make Sure You Are Using the Correct Business Name
This may seem like a no-brainer but when we say "correct", we mean adding as many valuable keywords to your listing as possible as well – besides the actual business name. These keywords could be your main ones that pertain to the niche you are in.
But it doesn't stop there because the business name entry also opens up plenty of opportunities to optimize for local search. After all, you can also choose to add the specific locale you are operating in or wish to render your services or sell your products to. Lastly, make sure you list your business name exactly as it would appear in the real world.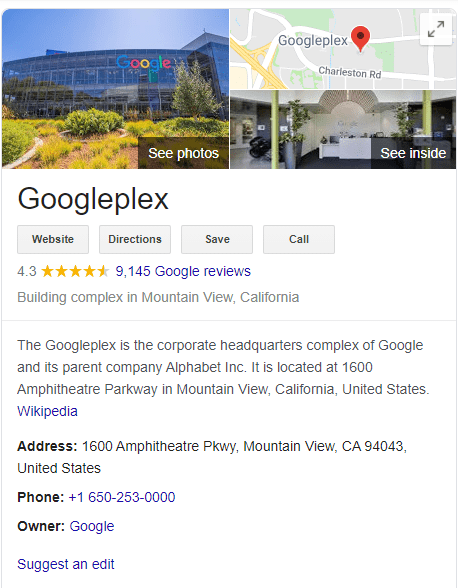 2. Use the Right Categories
If you are a web development company, for instance, then be sure that reflects correctly on your listing by choosing 'Web Developer' as a primary category. There's also the chance to include additional or secondary categories, so you should certainly make the most out of it. More categories don't necessarily mean better; 2-3 additional ones will do.
What we're really aiming for when inputting the right categories is specificity – Google likes it, to say the least. Opt for accuracy of representation rather than opting to be broad, which does not really bring many advantages at the end of the day.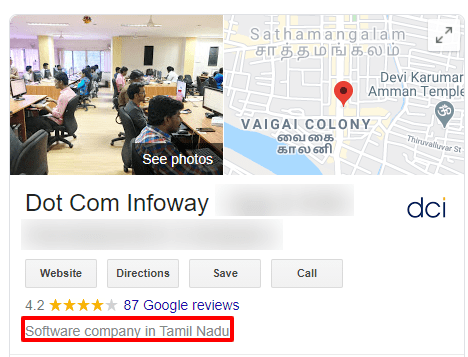 3. Share All the Vital Information You Can to Complete Your Business Profile
Besides listing your complete business name and relevant categories, be sure to give out all the truthful information you need to relay. As much as possible, you should tick all the entries in this list:
An accurate business address that is on-par with the information reflecting on your website and other business citations.
The exact operating hours including holidays.
Be sure to enter the exact service areas your business will be covering.
If you have numerous branches, list all of their locations and verify them.
Don't forget your website's URL.
Use high-quality images relevant to your business and upload an applicable logo.
Include only working contact numbers and update them once the need arises. It's best to use a local phone number for obvious reasons.
Add an appointment link if your business requires it so customers can immediately contact you.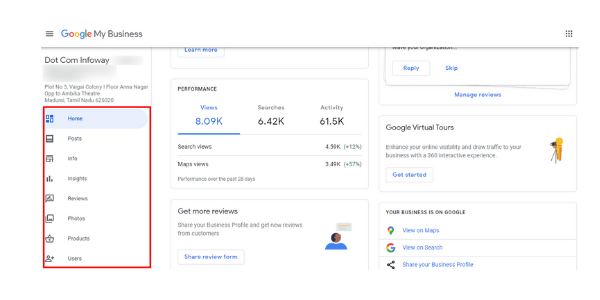 Important Note: Don't forget to add keywords where possible!
4. Claim Your Business Profile's Short Name
Your short name represents three important aspects of your listing: the brand, category, and location. Consider your short name as a means for customers to immediately connect with your business immediately and share vital information about it. Once you've claimed it, you can freely share it with your existing customers using the form "g.page/(your short name)".
Once you share it, your business's location will be revealed to prospective and existing customers via Google Maps, besides giving a general overview of your business's profile. Essentially, it's a more convenient way to actively share your listing.
---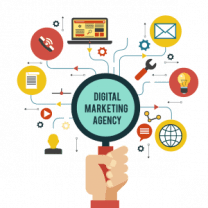 Wondering How to Get Your Website On the First Page of Google?
Dot Com Infoway provides a free consulting session, during which we will do a quick audit of the various aspects of your online presence and let you know how digital marketing can help you boost your business.
---
5. Include Optimized Images and Videos
Photos and videos obviously boost engagement so don't skip on including them. They also give you a lot of opportunities to showcase your portfolio, the clients you've worked with, among others. Be sure to label and geotag all of them as well. These are two vital steps in local search optimization of which GMB is a part.
6. Keep Encouraging Feedback and Actively Respond to Them
You should ask any customer you work with to leave reviews. Encourage them to expound on what they loved and about the aspects you need to improve. More importantly, respond to every single one of them. This gives Google and other potential customers a good sign that you actually care about providing high-quality products and services. These reviews will serve as lasting exhibitions of the quality of your service and the overall reputation of your business.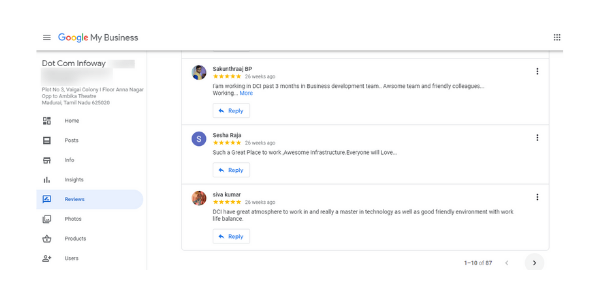 7. Post Daily or Weekly and Keep Them Optimized
This is one way of sending signals to Google that you are active not only as an enterprise but in their platform as well. And as we all know by now, Google likes activity and, more often than not, blesses those that take part in it with higher rankings. Posts also inform your clients about any notable event in your company, new products or services you might be offering, and serve as a reliable communication medium in general.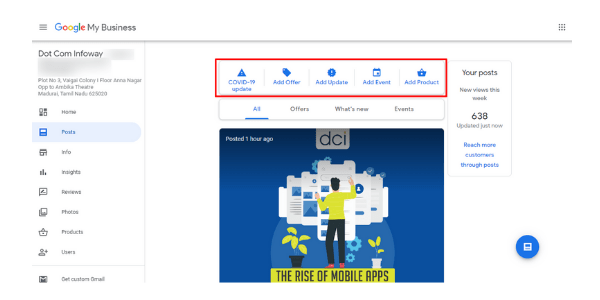 8. Familiarize Yourself with Insights
It serves as a window through which you can see your listing's overall performance. You can use the data in Insights to know how potential clients are reaching you, and in turn, discover areas in your listing that you can improve on. Through Insights, you also get to know whether you are appearing for the right keywords, which is essential for better conversions.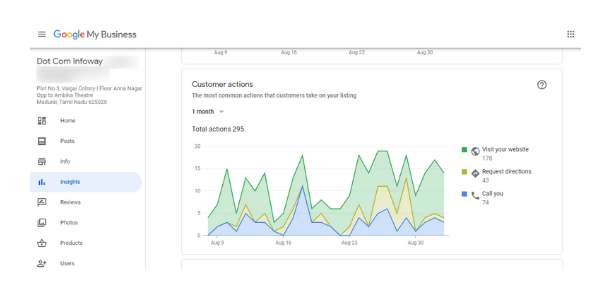 Has the COVID-19 Pandemic Impacted Google My Business?
The short answer is yes. And greatly if we might add. For one, many businesses' operating hours have been affected by the pandemic so you surely have to take the time to update this information in your profile if you are among them. For this, you can use Google Posts (which have a weekly expiration) to post updates and other COVID-19 content that can be included in your GMB listing.
The pandemic's effects are not without a positive tinge, though. More people, after all, will now be relying more on search engines and local searches to reach businesses. Always keep this in mind as you take the steps to secure your business's future.
Conclusion
This updated guide only goes to show that you should constantly be looking at the things you can improve in your GMB listing from time to time. It's one of the few free platforms that offer opportunities for acquiring highly targeted traffic. In the end, you'll have to take the time to optimize to know how significant its impact is.