What Differentiates SaaS Marketing? A Simple (But Complete) Guide
Venkatesh C.R
SaaS marketing has become a sure-fire strategy for success. According to a roundup of studies by Statista, about 47% of SaaS businesses have vouched for its effectiveness, particularly when it comes to enhancing sales. With the growth of the SaaS market predicted to skyrocket by a CAGR of close to 20%, this facet of digital marketing has become an invaluable driver of this growth. But what exactly is it all about and what makes up the ideal SaaS marketing plan? Our
digital marketing agency
gives you an insider's eye view of all the bolts and nuts, including the secrets to success. Let's get started.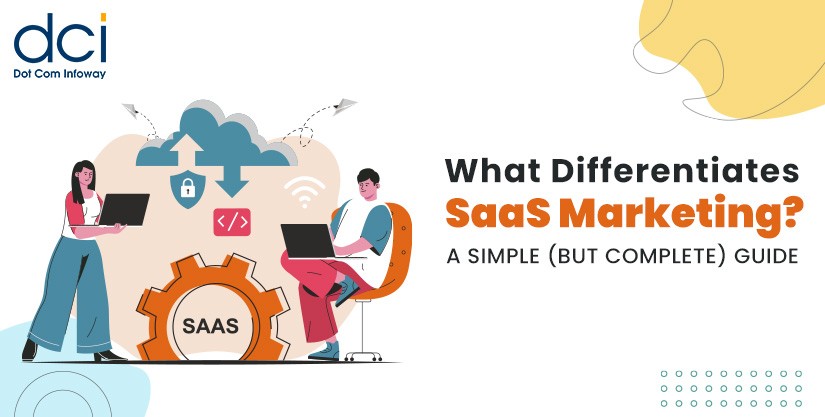 What Is SaaS Marketing?
A SaaS product (or Software as a Service) entails selling software solutions to customers via a license or subscription-based model. SaaS marketing targets the promotion of these specific types of products, helping to generate & maintain leads and sales for SaaS companies. 
Just to get a feel of how important SaaS marketing is, it's worth noting that businesses redirected 40% of yearly revenue into this type of marketing. Moreover, close to 7 in 10 companies are ready to channel more financial resources into SaaS marketing.
Some of the benefits of SaaS marketing include: 
Better product and brand visibility 

Heightened lead generation SEO

trends & tactics

Short sales cycle

Lower customer churn rates 

Improved

conversion rate optimization
How Does SaaS Marketing Differ From Others?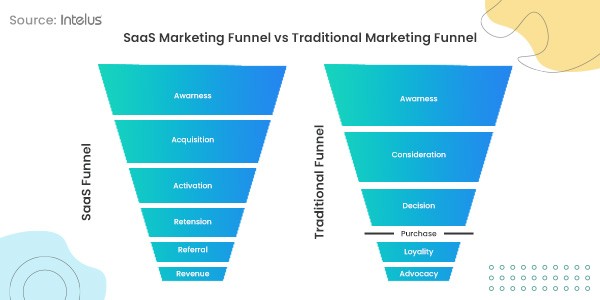 A Two-Facet Approach To Service & Software
When comparing this type of marketing to the conventional approaches, one key difference that stands out is the intrinsic elements that drive the marketing, and thereby the sales offer. In the traditional methodology, marketing usually casts focus on a single product or service.
On the flip side, SaaS marketing generally entails a combo or hybrid approach to promotion. This entails considering both service and software as two different entities. 
Greater Emphasis on Market Education
New SaaS solutions typically offer bells and whistles for companies to squeeze more out of their workflow. Yet, approximately 70% of digital transformation projects fail, partly due to a lack of employee intelligence.
To smoothen the learning curve, a b2b SaaS marketing strategy usually focuses significantly on software education compared to other types of marketing. There's a need for potent marketing around: 
Feature demonstration

SaaS use cases 

Product workshops
SaaS Marketing Is Highly Feedback-Driven
Over 9 in 10, consumers make a purchase decision off a review they've read online. Customer endorsement by way of reviews is important across the board no doubt. However, in SaaS marketing, reviews usually warrant heightened importance, particularly with software solutions just breaking ground in new markets. 
Any marketing plan should therefore make efforts to include concrete forms of social proof. This may come from trusted SaaS review/rating websites and on-site testimonials. 
Special Incentives To Offset The Risk
SaaS marketing seeks to ease leads into their funnel and use risk cushions or reducers to do so. Asking clients to take the leap of faith and pay hundreds of dollars for unproven software solutions is usually a tall order. 
To sweeten the pot, SaaS marketers normally implore risk offset strategies, such as: 
Money-back offers 

Free trial/freemium plans

Bonus upgrades, etc
A Formula That Continuously Replicates Success
For SaaS companies, financial health relies more not on acquiring new customers (although important) but on upselling and maintaining the customer base, given that revenue is typically subscription-driven.
The SaaS industry has a higher churn rate than most industries at 10% and hence warrants the extra mile to ensure repeat business. As a result, compared to traditional marketing, SaaS marketing has extra emphasis on post-purchase customer nurturing to maintain brand connectivity.
Consequently, this adds another key differentiator to the SaaS digital marketing vs traditional marketing debate, with SaaS marketing tending to incorporate a few more stages or steps in its marketing funnel due to after-sale nurturing. 
SEO as a Stepping Stone to Success
From physical to digital products, most consumers prefer to shop online. In 2023, there were over 2.6 billion online shoppers, which has made SEO strategies the cornerstone of any successful SaaS content strategy. 
In light of this growing trend, it needs to also take into account key facets of effective SEO, including but not limited to:
But there's a lot else that goes into the SEO equation, and our list offers but the tip of the iceberg. Take a look at this SEO factors infographic for the complete picture.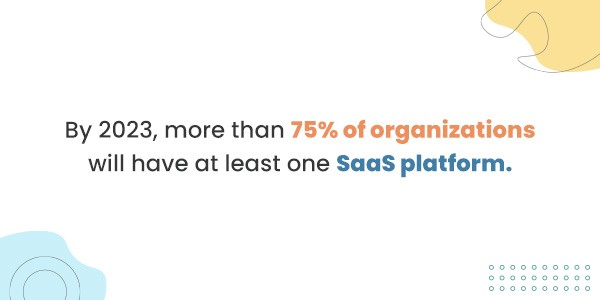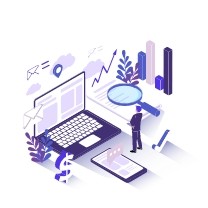 Achieve Your Growth Within a Short Span of Time
As one of the leading SaaS marketing agencies, we offer the best and most effective techniques to achieve your business growth and maximize the subscription rate. Are you ready to grow higher?
The Most Effective SaaS Marketing Strategies for 2023
Taking Off With Robust Lead Nurturing
Out of every 10 leads, just 2 will result in a sale. In other words, only 20% of new leads translate into revenue. A good lead nurturing process is therefore important, and some tried-and-tested strategies include: 
Live demonstrations 

Dynamic email marketing 

Free tools
With only 1 out of 4 leads converting from a free SaaS trial offer, lead nurturing is one of the most important initial stages of a good SaaS marketing funnel. 
Boosting Virality With Social Media Finesse
A SaaS post is likely to be shared an average of 246 times, provided an upkeep of quality and consistency in terms of post content. In reality, some companies can even attract up to 2100 shares per post. 
Common tactics for social media SaaS marketing entail tapping into the appeal of social media influencers and cultivating strategic brand collaborations on social media, preferably with non-competing partners. Additionally, social media paid ads are also a popular method for SaaS start-ups to hit the ground running.  
Automated Personalization via CRM Centricity
Customer relationship management (CRM) systems ensure companies can easily keep tabs on customers, and put a face to each lead through micro-level segmentation.
Intelligent automation can make the process of managing and leveraging this data easier, with many CRM solutions today offering customizable templates for various marketing materials such as: 
Newsletters

Outbound Emails

Invitations & much more 
Cutting Ahead With SaaS PPC
PPC offers a commendable ROI rate in the region of 200%. SaaS companies, more so up-and-coming start-ups, can tap into pay-per-click marketing to instantly capture traffic and leads.
To crack SaaS marketing, PPC helps to bid on competitor search terms – even if they're branded- and imploring audience exclusion via negative keywords. That said, it's important to work with a SaaS marketing agency to avoid overly thinning your market base. 
Covering Your Bases With AI and Sales Intelligence
AI can be the first line of customer service for the SaaS company by way of chatbots. These can provide instant assistance to leads and help users a foot into the sales funnel. That's in addition to collecting important sales intelligence or data to help nurture the lead.
Other ways you can put AI to work in SaaS marketing include: 
Predicting churn 

Boosting product value proposition 

Automating lead generation/qualification 
Widening the Net With Mobile-First Marketing
As of 2023, over 92% of consumers access the internet through mobile devices. Furthermore, mobile is responsible for up to 63% of Google's search volume. 
Today, most executives look up potential SaaS solutions via handheld devices while mobile technology has also come a long way, capabilities-wise. Consequently, a mobile-friendly approach to SaaS marketing is the bare minimum.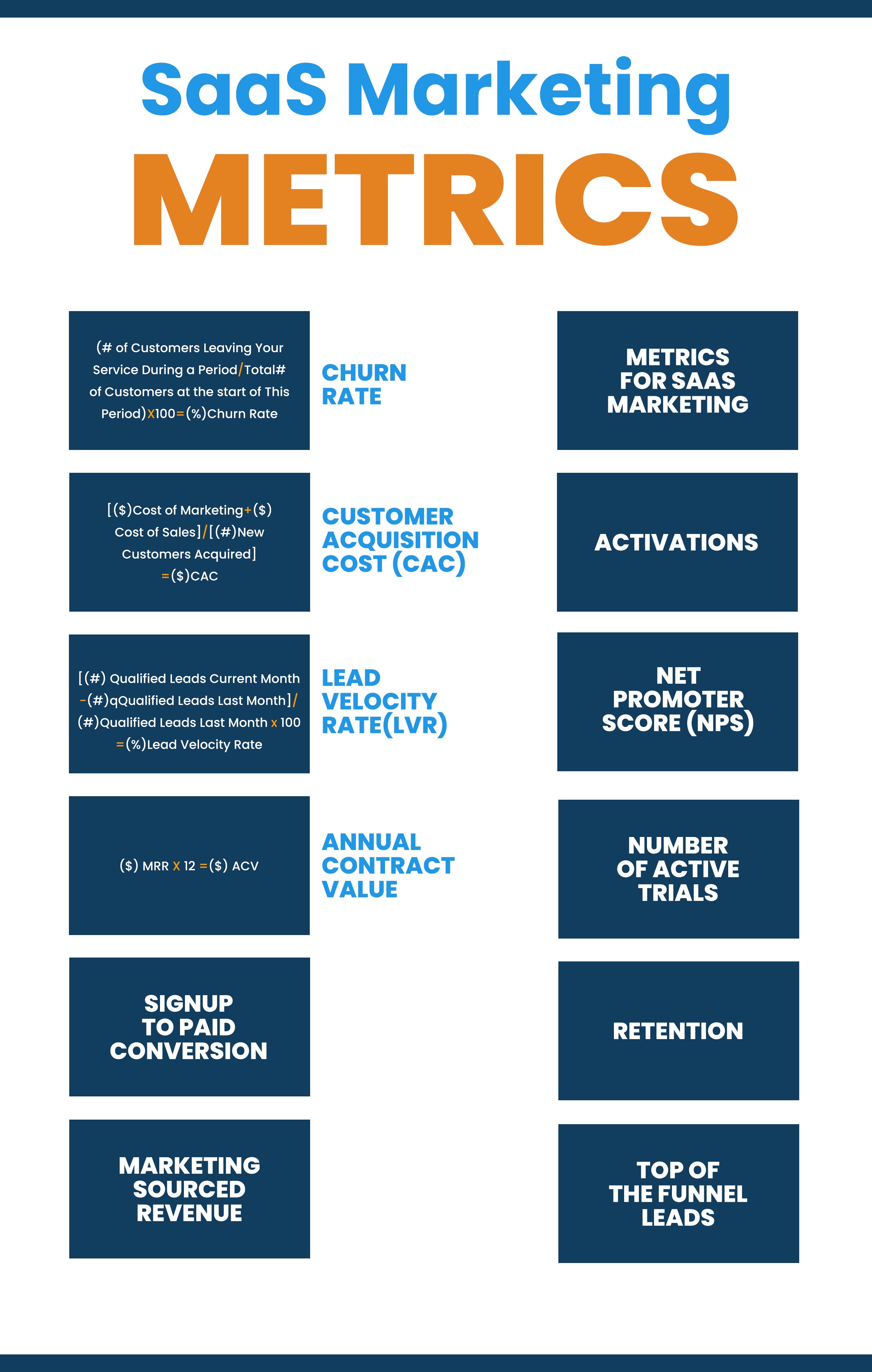 Conclusion
Continuously measuring, tweaking, and enhancing is also key to cementing a solid strategy. In this regard, it's also important that businesses stay on top of important SaaS marketing metrics such as customer acquisition cost, lead velocity rate, churn rate, and activations. It can involve a lot of moving parts. If you're a start-up looking to augment your know-how with industry-proven expertise, trusted a proven provider of digital marketing for SaaS companies such as Dot Com Infoway. Let DCI take your SaaS marketing to the next level and position your brand for success.