PHP Development
Dot Com Infoway, a leading IT, web and mobile applications development company, offers award-winning PHP development services globally from its offices in India and USA. With over two decades of experience in working across PHP application development frameworks and PHP services, our experts have completed 845 projects for over 200 clients across the world.
DCI enables you to hire PHP developers who have extensive expertise in areas such as PHP website development, PHP custom application development, PHP porting and migration services and PHP consultation.
Our PHP programmers are highly experienced in creating well-designed and innovative web applications, within your budget, in a timely manner. You can rely on DCI to hire experienced PHP developers for all your custom PHP web development requirements.
Get in touch with us to know how our ace services can help you.
Our Services
DCI is a top PHP development company worldwide and offers an array of PHP development services, including:
PHP is one of the most commonly used server-side scripting languages, and perhaps the most popular programming language in use today. At DCI, our experts build custom websites in line with your business goals, developed on the powerful PHP platform for optimal performance.
PHP empowered websites are more user-friendly, innovative, functional and quite cost-effective ensuring a better experience for your customers. DCI offers expert web development service to develop a dynamic website within your budget, with a great UI.
PHP, a popular server side scripting language, is ideal for creating the most interactive and appealing web applications. Hire PHP developers to design user friendly, responsive and cross-platform web applications to expand your business's reach.
All CMS are built on different framework or use a programming language such as PHP, which is a popular choice for majority of open source CMS. At DCI, we develop exceptional websites using open source CMS with custom plug-ins for API/web services integration.
PHP and MySQL are very commonly used powerful open-source technologies that are perfect for developing data based web applications.  The experts at DCI offer comprehensive PHP solutions and MySQL development for dynamic Internet-based applications.
DCI excels in custom e-commerce store development services including theme customization, maintenance and extensions development. We create PHP based high-performing online stores that are packed with user-friendly features, built at an equitable cost.
DCI offers professional PHP web development services to cater to business requirements across verticals such as e-commerce, e-learning, healthcare, publishing, media, accounting and social networking.
Our expert programmers work with you closely to understand your PHP web development requirements such as website development, web application development, porting, etc.
Leveraging the talent of our experienced engineers and the latest technologies, we make proper use of PHP – a unique open source scripting language – to create dynamic web pages and applications.
Tried and tested methodology that is known to deliver and simple codes for fast, efficient and timely results.
Why Us?
DCI is one of the world's leading IT and web-development services company that has carved a niche in the technology domain over the past two decades
Customer Satisfaction
We guarantee customer satisfaction through websites that are compatible with most operating systems as well as highly engaging.
Affordability
We offer best PHP web development services at an affordable price.
Latest Technology
Latest Technology Our team of certified experts are constantly updated with the latest technologies to offer you best solutions in the market.
Expertise
Knowledge of PHP (LAMP), MySQL, Apache, Linux and MVC framework for high performing, expressive web solutions.
We always use G and his staff at DCI. We have lots of requests and they are always willing to go above and beyond to meet our needs. I highly recommend them.
Dot Com Infoway is the company who did my website. I highly recommend DCI. Just identify a few sites that look like what you want and they will design accordingly.
---
Check Out the Related Services
Latest Updates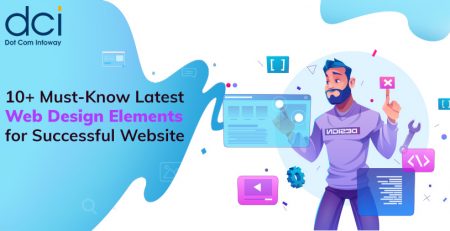 Your website development agency, assuming with one, isn't joking... read more
eBook and Guide
Content marketing is not what it was yesterday. Today's trend demands fatter content in the form of ebooks, infographics,... read more
Developers are aware that the app market is saturated with millions of apps, and standing out from the lot... read more