Helping your apps make a grand presence on app stores
The Mobile App Marketing Process: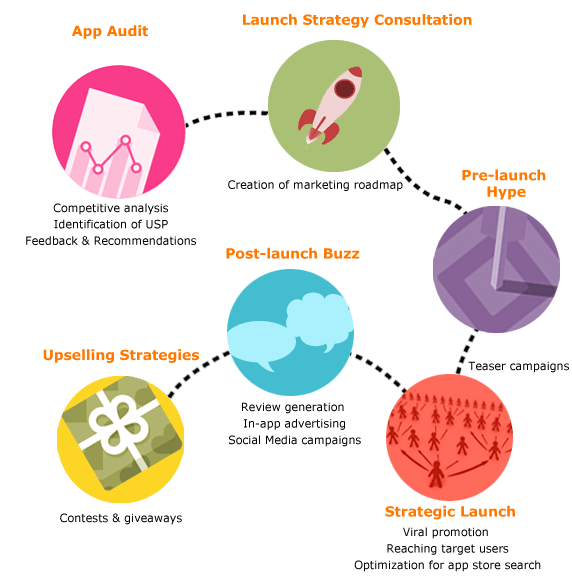 What We Do:
Pre-launch campaign to create buzz about the app
Strategically-timed launch to grab the attention of maximum users
Post-launch viral campaigns via mobile, Web, videos, podcasts etc.
In-app advertising via other popular apps in the app store
Exciting updates to make existing users revisit the app
Promotions on recent functionality upgrades to hook new users
Paid promotion and review generation to drive downloads
Suggestions for new upgrades based on user feedback
Maintaining communication with users to ensure app popularity
Establishing touch point with users to build value for the brand
Thank you very much for all your help with the initial campaign. We are very pleased with the services.
Scott Army, Wave - The Social Network For Events
Top-notch agency! Would love to work with them again in future. Highly recommended!
Yuriy Cherkashin, HandyYoga
Great working with this company! Would definitly look forward to work with them in future.
Khyati Mahajan, Mevo - Weight Loss & Fitness
I had a great experience working with the DCI team, they are very friendly and highly professional. I would definitely hire them again in future.
Kem Abeysinghe, Best Property Buy
I'm very glad for your services.
Thank you very much for the good work.
Hope to talk to you soon in case we need a marketing service for some other app as well.
Stylianos, Moletag Ltd, United Kingdom
DCI is a terrific mobile application marketer. Their team has the sense of mobile marketing and strong technology background. I confidently say that DCI really knows what client needs and deliver the right message!
Brian Lee, WorldCard Mobile
DCI has really made a great amount of effort and did excellent work in promoting my app. Thank you very much for this. I believe that their efforts contributed a lot to the good reception of the iPad release of Burning Bubbles Lab.
Johannes Fieres, Burning Bubbles Lab
It was great that we reached high position in the appstore. I am hoping to bring DCI many projects as I enjoy working with them.
Hussein Akindji, Diet Butler
I will have Dot Com Infoway market all our apps. I must say I am very impressed with the results.
Michael J. Alto II, Screenwriting
Obviously DCI know what they are doing. I am happy with their progress.Great work!
John Blossom, CEO, iFacelaugh
FAMP and I received a mention on the local TV news station, First Coast News, last night! To say the least, I was surprised and pleased. I'm impressed and hope the continuing marketing efforts translate to greater acceptance of the app. Keep up the good work!!
David Gottlieb, Mobile software developer, FAMP
DCI did a great job in promoting my game - I wish DCI's continuous growth.
Sae Hwan Cho, Joy Desk
Thank you very much for all your work. We hope we can promote our future apps with you again.
Krzysztof, CEO and Game Designer
You have done a great job! Thank you very much.
Mauro, CEO