An Overview of Google Analytics 4 Setup Steps, Features & Benefits
Venkatesh C.R
The consolidation of apps and websites through the advent of Google Analytics 4 only goes to show the continuous rise of mobile since its inception close to a decade ago. How time flies, indeed, and even as we write this, people are already discussing this change with their favourite Digital Marketing Agency and learning about proper Google Analytics 4 setup. 
If you're not already aware of it, it will completely replace Universal Analytics (aka Google Analytics 3) come the 1st of July 2023. As a digital marketer, there's no point in dilly-dallying and learning more about it. 
Below, we've explained how to set up google analytics 4 and added vital information such as its pros relative to GA3 and a few pointers on how to make the most out of it in its current state.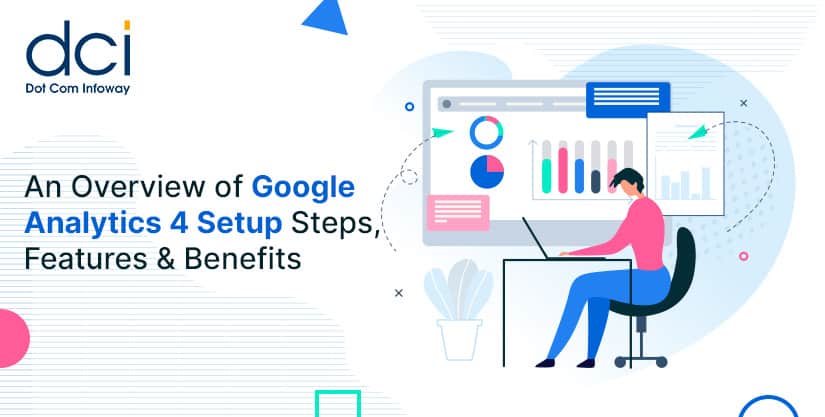 GA4 vs UA: A Triumph Over Obsolescence
There's a clear winner in the Google Analytics 4 vs Universal Analytics battle. As in any match between an update and its predecessor, the former is bound to come out on top. 
As of this writing, Google Analytics is still being used by up to 55.7% of all websites and 85.9% of websites whose analytics tools W3Techs is familiar with. 

As of April 2022, close to 74% of websites in the top 100,000 are using Google Analytics. 
With its popularity in mind, it's not surprising that Google is continuing to polish it via Google Analytics 4 and has decided to shelve Google Universal Analytics for good.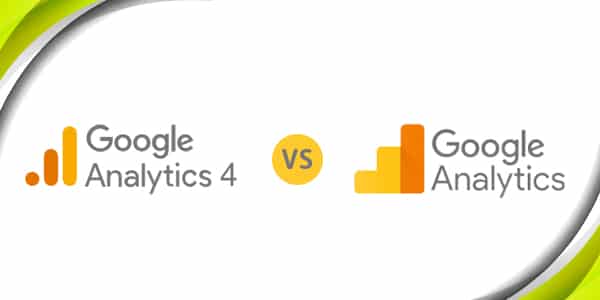 You can see for yourself why Google Analytics 4 benefits are arguably better with the following comparison between the two:
As with any update, GA4's home dashboard looks a bit different with new visualizations not present in UA. 

All data reports are now organized and can be viewed in the Analysis Hub.

GA4 uses

AI and machine learning

to great effect as it now actively notifies you about notable data trends in your business.

GA4 measures based on events, which provides a more in-depth view of user engagement on every website. For one, you can now view and analyze the entire user journey from your YouTube video that led to a conversion. 

Universal Analytics offers 25 views for reporting while GA4 only makes one available. This isn't really a downside with new features such as 'Data Streams' and 'Audiences'.

GA4 no longer measures bounce rate. Instead, it's now measuring '

engagement rate

', which measures the time spent on a page. 
Overall, while it's wise to not fully convert Google Analytics 4 to Universal Analytics now, it pays to start getting the hang of the former as soon as possible. It will inevitably take over and provide better perks, as the next section can attest. 
Major Benefits of Google Analytics 4
Before diving into the proper Google Analytics 4 setup, let's first make it clear what the exact advantages of this upgrade are. 
A better view of the User Journey
We can see this clearly in how GA4 chooses to focus on tracking events instead of sessions. It's easier to create data clusters thanks to the optimized sets of metrics available for both app and web data. 
GA4 keeps track of the entire journey of the user across numerous devices up to the point when he or she is converted. These facts not only mean you get better insights but enjoy much-needed time- and effort-saving when looking at conversions and other vital analytics-related factors.
Easier to track and improve User Engagement
Since its analytics tools made a hard turn toward user engagement, expect to get a clearer idea of how engaging your content is and how engaged your users are with it.  This is made possible with the new engagement metrics now available, which effectively expose and cast aside the triviality of the bounce rate metric.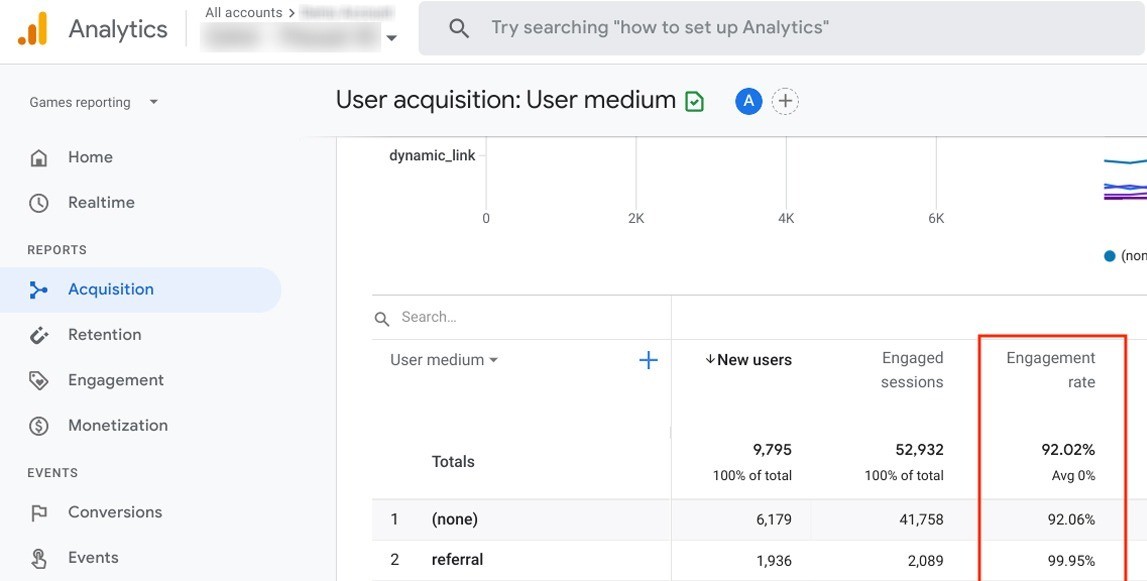 On the whole, these metrics concentrate on being more user-centric. Add to this the integration of AI that can predict customer actions and actively inform you about them, and you'll see just how dedicated GA4 is to delivering actual helpful insights. 
More Powerful Measurements
Just how powerful? Think of being able to maximize your ROI with every ad spend. Again, this goes back to GA4's ability to track the entire user journey across mobile and desktop, assuming you launch an ad campaign on both. 
With proper campaign setups, you can actively avoid wasting your money on ads that result in poor ROI because of this helpful feature. In the past, this has always been the case, which warranted careful analysis of the entire user journey first, which takes time and resources. 
Once we get to see the capabilities of the new predictive metrics introduced in the future (such as one that predicts revenue from a targeted audience), we will only realise just how truly transformative this update is. 
Intelligent Tracking Features
The improved ability to control which specific personal data you'll collect hinges on Google's focus on adhering to online privacy regulations. You'll see the amount of freedom you get with the modifications you can do in ad personalization. 
And we mean this in every sense of the word, easier. In the past, you'll practically need to continuously edit code just to get in-depth behavioural data. GA4 even allows you to skip a couple of steps by pre-creating events that used to need to be manually set up in the past. You can view GA4 event parameters like clicks, behavior, transactions, first visits, and file downloads from the get-go and measure Google Analytics goals and form submissions with relative ease.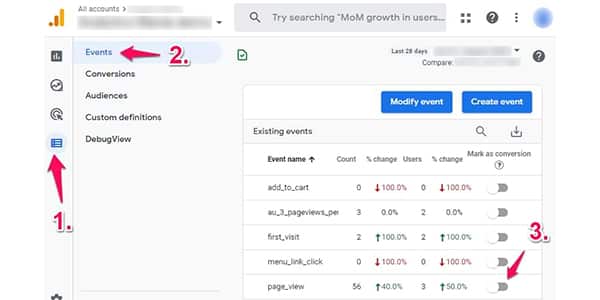 Detailed and convenient Reporting
We've mentioned the different visualizations in GA4. Overall, the reports look sleek and can be customized to be more engaging. What's truly revolutionary hinges more on the latter, as evidenced by the number of modifications to charts that you can do. You can opt to choose chart templates intended to fulfil different analytical purposes as evidenced by the different ways that data is presented through options like Exploration, Path analysis, and Funnel analysis. 
Moreover, you can narrow down your reports by having them focus on various industries and use cases.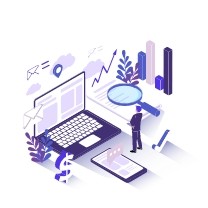 Need Assistance To Upgrade Your Google Analytics?
Our Digital Marketing Experts assist you in Google Analytics 4 Setup including in-detailed report systems. Without losing any historical data, migrate to GA4 full of confidence with our expert guidance.
Google Analytics 4 Setup Steps
The entire Google Analytics 4 setup is fairly easy and straightforward. 
The GA4 setup

can be accessed right after logging in to your account through the 'Admin button. 

Select the account and property that you want to use for GA4. Afterwards, click on the Account Access Management tab then click on 'GA4 Setup Assistant' on the column next to it.

The Google Analytics 4 property setup

wizard will start once you click on the 'Create property' button. That's it! You now have a GA4 property!
Google has also provided a detailed tutorial for using Google Analytics tags through its GA4 tag manager setup. Head over here to read it. 
A Couple of Helpful Tips for Effective GA4 Reporting
Done with your three-step Google Analytics 4 setup? OK, now it's time to start with the Google Analytics GA4 configuration. Let's begin with the three types of reports available.
1. Life Cycle Report
Life cycle reports are categorized into 4 main sub-categories, namely Acquisition, Engagement, Monetization, Retention, Demographics, and Tech. These headings should readily reveal to you the insights they provide, especially if you've used Google Analytics before.
Overall, these reports provide insights regarding user behavior and conversion funnel performance. 
2. Real-Time Report
As the name suggests and what's been used in previous incarnations of Google Analytics, this report reveals everything that's happening on the property at present up to 30 minutes ago. 
It allows you to test your tracking code as well as view Effects from videos you've uploaded on YouTube. 
There's also a new feature called 'View user snapshot', which pretty much provides you with a more detailed overview of a user on your site (i.e. know his or her location, device, and how engaged they are). 
3. Analysis Report
AKA the Analysis Hub, the 'Explore' section where it is found is entirely dedicated to conducting more in-depth analytics. You can choose the template you want your data to be presented as we've mentioned before. 
Below are the varieties of analyses you can now conduct with GA4.
I. Exploration
This type of analysis allows gives you complete control over how to dive into your data in order to gain insights you may not have acquired otherwise. You can choose numerous tables and graphs and may freely arrange them for convenience.
New features like anomaly detection allow you to pinpoint, as the name suggests, anomalous data. What makes things even better is that you can set the sensitivity for detecting the said outliers. 
II. Funnel
With funnel analysis, you'll be able to know how your funnel conversion performs. Gain invaluable insights about how the shopper takes each fundamental step toward conversion as well as what affects their purchasing behavior. 
III. Path
This brings to mind the behavior flow reports that are used in Universal Analytics. The path-style analysis allows marketers to create an event stream in a tree graph. With it, you can easily detect issues related to users not being able to progress. 
IV. Segment Overlap
Up to 3 user segments can be 'overlapped' and compared with one another. If you're not already aware of it, a user segment is a group of users that did similar actions when interacting with your property or residing in the same locality. 
It's different from a cohort, which shall be discussed below. 
V. Cohort
Cohorts share qualities related to your conversion and marketing strategies. For instance, they may be a group of people who converted in the same manner or were acquired on the same date.
VI. User Lifetime
Being able to know your users' exact lifetime value is every marketer's dream. 
Now it's possible to discover which of your campaigns are pulling in the ones with the highest Customer Lifetime Value. And we have the new prediction models to thank for this. 
Conclusion
Has this GA4 guide been helpful? Always remember that there are still a number of updates coming to GA4 in the future. It's only after Google Analytics 4 has achieved its full potential that we can probably create a complete guide expounding on how to upgrade Google Analytics. 
Today may be the best time to start with digital marketing consultation, considering the massive changes going on in the industry. Whichever direction you decide to take with your analytics, just remember the points we highlighted here to avoid delays and issues.