An Overview of Marketplace Apps, Their Present Relevance, Types, and Processes Involved
Venkatesh C.R
Unless you're living under a rock or have been out at sea or in the wild for a good portion of a year or two, both of which are highly unlikely, you're probably already aware that online shopping has already entered a cloud-nine stage. It's as relevant and necessary as it could possibly get in its entire history, given that the pandemic made it almost inevitable. Platforms such as eBay and Amazon, companies that have been steady growth even before this coronavirus pandemic reared its ugly head, serve as prime examples of bastions of online shopping. In turn, they serve as living monuments of the promise of success for anyone meaning to ride this big, online shopping wave. And what better tool to use to potently harness its potential than a customized marketplace app?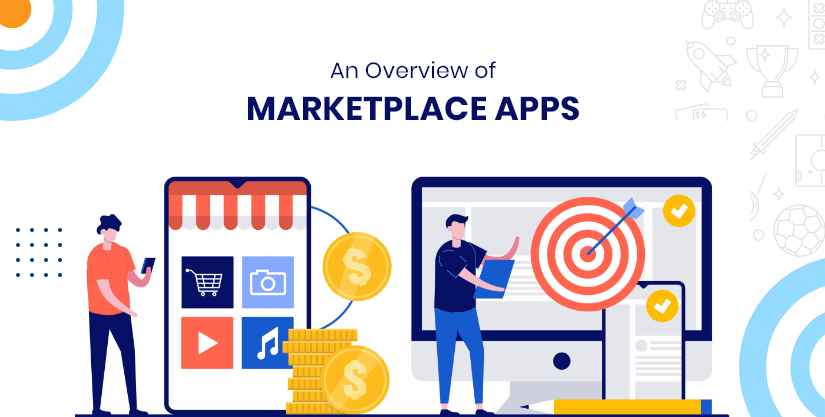 What Is a Marketplace App?
A marketplace app essentially serves as an online extension of an actual traditional marketplace. In it, users may avail themselves of the listing and payment features in the app to allow the smooth exchange of goods.
Usually, the items would be delivered straight to the customer's doorstep or be made available for pickup. That's just a general overview of the process involved, though, as there are now numerous types of marketplace apps. What's sure is that almost any kind of transaction available today could very well fall under the all-encompassing category of these kinds of apps.
A marketplace app should not be confused with an app marketplace, which is basically a platform where apps are listed as the goods themselves.
Types of Marketplace Apps
Almost any kind of ecommerce platform or apps that target e-commerce businesses can be considered as a marketplace app. The three main forms of transactions, namely B2C, B2B, and C2C, also fall under this category. Marketplace apps can also choose to focus on catering more to either buyers or suppliers in the same way that there are e-marketplaces that sell specialized or wide-ranging products that could either be categorized as vertical or horizontal, respectively.
Lastly, there are also independent e-marketplaces that usually adopt an open marketplace managed by a third-party entity. Buyers and sellers that work in the same industry may use it to easily find what they need, clients and items alike.
Why Is It Important Now?
Being first-hand witnesses to the devastation wrought and still being inflicted by the pandemic, it's really no wonder why online shopping through marketplace apps is gaining such incredible traction. These apps bring out the shopaholic in a lot of us, and research can back up the claim that it's hard to resist the urge to buy a product we love. Marketplace apps ensure they'll always be within arms' reach.
But, more importantly, they provide a far safer way for people to get what they want without having to up their risk of getting infected when they go to traditional marketplaces or shopping malls. Moreover, it keeps the economy alive. It provides retail stores and almost any business that deals in goods, physical or otherwise, a viable or even better alternative to continue their respective ventures despite the limitations inherent in this new normal state of things.
How to Develop a Marketplace App?
As in any kind of app, you have to plan the kind of marketplace app you want to develop and the proper features that it should offer to its target audience. This includes your budget, which we shall discuss in further detail below. That being said, there are numerous areas where different types of marketplace apps overlap. These must-have features are the following:
This involves giving the user the ability to search for a specific product using an image or photo that he took of it. This way, the shopper won't need to have to know or recall the name of a specific brand just to buy a product.
Integrating social media provides that much-needed convenience when registering and logging in. Most users want to be able to access the features of a marketplace app without having to type in personal information, and this is made possible with social media integration.
This only allows users to search in a more in-depth manner and help them narrow down their options. This is especially useful for stores with a huge catalog.
Again, this adds a touch of convenience during the entire search process. The trends point toward voice search becoming the norm so it's only logical to start adopting it.
Giving users more than one way to pay because it more or less can impact conversions and cart abandonment rates.
AR would allow users to familiarize themselves with a specific product to a better degree than by simply viewing its images and description online.
Key Features of the Market of Marketplace App for Users
Social & Sign-up Login
Product/Service listing with features
Product/Service detail page
Search & Filters
Ratings & Reviews
Favourites listing
Questions & Answers
Offers/Discounts
Notifications
Vendor & User profile
Billing & shipping addresses
Delivery/Order status
Credentials/Awards/Features listing
Checkout page
Order history & tracking
Return/Refund Process
Chat Support/Chatbot
Key Features of the Market of Marketplace App for Sellers
Social and Sign-up Login
The product, order, returns, and inventory management
Reports & analysis
Offers & discounts
Settlement module
Feedback & seller support
Notifications
Ratings & Reviews
Key Features of the Market of Marketplace App for Admin
User & admin user management
Product & seller management
Logistics & banner management
Offers & discount management
Payment & refunds management
Category management
Feedback & support
Reports & analysis
How Much Does it Cost?
Take note that these are just estimates since not every app will turn out to have the same features or capabilities. Factors such as overall development time and the number of features you wish to include also dictate a lot of the final price.
Here's more or less a breakdown of the average rate focus on the cost of features,
Design – $6,500 to $9,500
Wireframe – $700 to $1,100
UI/UX – $2,000 to $3,000
Overall, the development cost of marketplace apps may amount between $40,000 to $90,000.
---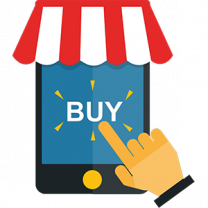 Want to Build a Marketplace App For Your Business?
Our marketplace mobile app development services help to improve your customer's engagement through highly interactive iOS & Android apps. We have a solution tailor-made for your unique needs to improve your business reach, efficiency & customer retention.
---
How to Market a Marketplace App?
What's good about marketing a marketplace app is that there's no shortage of strategies you can choose to adopt and implement. Some even work best together for their innate synergies.
Marketplace apps have their own "ecosystem", though, which more or less makes it necessary to use a strategy that is amenable to its nature. It's important to make the customer journey as smooth and organized as possible in order for marketing endeavors to succeed. More often than not, strategies are based on user types.
For general users, these are usually what works for most projects:
Usually, this involves basing the decisions, strategies, and implementation on the final outcome of the app, with all its intended features in mind.
Mobile marketing has proven to be one of the most cost-effective marketing methods now available, even more so than traditional advertising. This often involves making good use of a smartphone's ability to tailor marketing campaigns based on factors like demographics and location.
With targeted ads, higher conversions are pretty much a surety. There are good tools provided by platforms such as Facebook when promoting to specific audiences that you're targeting.
What's any online marketing campaign without SEO and ASO? Marketplace apps are no exception to organic traffic, and both the above-mentioned fields require marketers to adopt their own strategies for success. For SEO, these often include paying attention to on-page factors like keywords used in the content, and off-page factors such as backlinks.
Influencer marketing continues to be a reliable way for any kind of mobile app, marketplace apps included. Influencer marketing for mobile apps is similar to word-of-mouth marketing in that the influencers you work with and who, more or less, believe in your app is the one who promotes it. What's good is that it's only evolving over time with the help of technology.
While for service providers, these are often the options:
There's still a wealth of opportunities to promote apps to an offline audience, especially on a local level. Pamphlets and flyers still remain viable and optimal ways to promote services, as are printed press releases in the local papers and hosting events.
This is basically brand awareness for your company done through various digital platforms and other relevant media content found online.
This takes up the bulk of sharing your company's message with your target audience over time. Viable routes for this include guest blogging, podcasts, native advertising, among others.
Website Optimization Support
This is support provided to make sure the website is user-friendly. Suggestions regarding any possible key areas of improvement on your website are also included in this area.
Broadcast media like TV interviews and printed media like press releases and news coverage are but some of the ways apps can be promoted this way.
Here are the tools typically used for growing users. They are either organic or paid approaches.
Paid
From interstitial ads and banners to video ads, these campaigns typically aim for the most cost-effective route for your apps in order for them to reach optimal reach and maximize engagements and conversions.
This involves finding and using the best keywords for your app so that it would be displayed on the top of search results for queries that include them. Campaigns usually take advantage of the high conversion rates and inexpensive cost-per-install and cost-per-tap inherent in Apple Search Ads.
Ads on social sites like Facebook and Instagram have the highest engagement in the industry. Facebook and Instagram ads are relatively easy to use, and it's always possible to optimize your campaigns over time to ensure the best ROI.
With Google Ads, you get better control of your bids and bidding strategies. There are also numerous ad types and ad targeting methods to choose from and experiment with. It's relatively easier to optimize campaigns using Google Ads. This is especially conducive for endeavors that are only starting out.
Influencers pave the way to better reach, brand awareness, and, ultimately, conversions. Partnering with the one who genuinely believes in your company's message and app features can definitely pay off, especially if he or she already has a huge following.
Organic
SEO is pretty much a no-brainer route toward higher organic traffic over time. This includes both off-page and on-page SEO and usually takes paying attention to the latest eCommerce SEO trends. It's best to set goals and aim to achieve them while closely adhering to search engine guidelines.
ASO is just as important as SEO. All the more so for a marketplace app. Obviously, discoverability and downloads are what you'll be aiming for. This includes being mindful of factors and updates that impact your app's visibility in search results, as well as improving conversion rates.
At best, relevant content will always be king. By sharing engaging content on various authority platforms, you'll be setting your app up for future success in the online world by fostering and maintaining your app's good standing in not only the eyes of people but search engines as well. In content marketing, relevancy and knowing your target audience are a must.
This will also include broadcast media and printed media. Press releases remain a reliable way to promote any significant app releases or updates.
Conversion rates make or break campaigns. This is why it's important to keep high for your app and maintain an upward trend over time. Conversion optimization aims to boost engagement, subscription, and monetization. There are multiple effective CRO strategies to achieve these.
User Engagement
The backbone of any campaign to boost user engagement involves making good use of data analytics tools to boost the onboarding experience of users, as well as improve conversion rates through A/B testing.
Conversion Funnel Creation
A well-crafted sales funnel can become the main key to your app's success, and that's not an overstatement. This requires analyzing and understanding your audience and utilizing catchy copywriting.
Segmentation of features only ever boosts your app's overall appeal. This requires modifying strategies based on the evolving needs and requirements of your target audience.
Push messaging can give any other purported method that delivers brand messages a run for its money. This often requires capitalizing on personalization and user-resonating messages to boost engagement.
With in-app messaging, you can open your doors to better communication with your audience, especially as they shop for the things they need and need information about specific products, offers, and other pertinent in-app activity.
Email messaging has never lost its appeal and continues to be a viable way to reach out to your audience and offer solutions and discounts to them. Careful crafting of messages that won't sound too contrite or annoying should be prioritized.
Monetization
User personas help you identify key issues about your products, with regards to specific issues about them as well as when compared to what the competition has to offer.
This includes deciding the best offers to make, as well as the most recommended times to share them with your audience. The more you know your audience and what appeals to them, the better.
Conversion Funnel Optimization
Not all sales funnels are built the same. More often than not, it needs to be honed over time based on what the data shows. These changes are what give direction to conversion funnel optimization.
Another aspect of monetization that requires careful attention to data, analytics points you toward the right way. Of course, you have to take the time to read, understand, and modify the proverbial map as you plot your course. Ultimately, the end result of all the data collection, analysis, and reporting involved in this points to optimization of every campaign.
Conclusion
We hope that you have gained some invaluable insights regarding marketplace apps with the information we've shared here. Much like any app, you can't skip any of the fundamental processes like planning, development, financing, and marketing. Just because the field is enjoying such terrific traction doesn't mean you should be complacent and settle for something that is just "good enough".