COVID-19 & Marketing Opportunities for Specific Industries
Ruban
Initial data on all the world's industries stress the undeniably wide-ranging impact of COVID-19. Almost every major industry is reeling from its onslaught, with the exception of essential ones like food, pharma, and healthcare. A major part of what makes these such dire times for a lot of businesses stems from the uncertainty that characterizes the entire crisis – all of us are still at a loss as to how and when it will end.
All businesses can do, of course, is to make do with every option available. Look for marketing opportunities that you can capitalize on; this is the only way to mitigate COVID-19 effects in industries as much as possible. We are going to say outright, though, that it is simply unethical to use the coronavirus crisis to your advantage. We will be focusing instead on helping businesses for improvement and lessening coronavirus impact in specific industries where these marketing opportunities are applicable.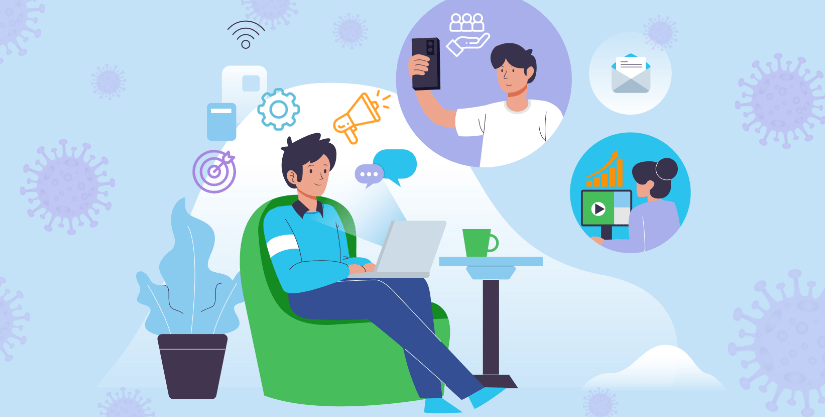 Accept Beforehand that There Will be Plenty of Struggle Involved
We also wish to make it clear that these marketing strategy suggestions do not serve as a magic bullet that will have you smooth sailing in no time. The coronavirus impact radiates throughout the fundamental spectrums of business operations in a lot of industries.
Acknowledge the fact that you will be operating with your hands tied – a lot of disadvantages and limitations are involved, after all. A lot of business owners have already consigned themselves to the fact that they will only be able to retrieve their losses for a year at most – and that is, of course, just an estimate. That pretty much underlines just how devastating the coronavirus impact really is.
And it's important for you to come to terms with this before long. The sooner you acknowledge the seriousness of the COVID-19 situation, the better it will inevitably be for your business. After all, wouldn't it only be then that you'd be willing to proactively look for marketing opportunities and invest resources to properly execute your marketing strategy? If you are in an industry where these opportunities are present, you practically have no excuse to not do so.
The Most Viable Options You Can Include in Your Marketing Strategy
Digital marketing remains an active and open avenue through which businesses can keep their enterprises afloat in these trying times. It's almost a no-brainer that industries that can capitalize on digital marketing should make the most of what the platform provides. This is why most of the marketing opportunities we will be suggesting are based mostly on online marketing. Without a doubt, a lot of on-demand services, which have been enjoying great and still growing demand during this crisis, will wholeheartedly agree.
Establish from the Beginning the Value That Your Business Can Provide to People During This Crisis
How will you be able to help people overcome their fundamental challenges during this time? It won't hurt to take a COVID-19-centric approach when planning your strategy and, ultimately, in delivering your products or services. Think of ways that your business can directly help as much as possible. People won't be too keen on hearing the usual promises that businesses used to make, after all, with their minds most likely flooded by worry and anxiety over this still uncontrolled pandemic.
Be there for people. That's one sure-fire way for your business to be relevant to your target audience. Once you see an opportunity for your business, then, by all means, seize it. If you are an app developer, why not be proactive in developing apps that will help in tracking the number of cases in a particular locale? Secondly, plenty of enterprise app developers can use this chance to develop more sophisticated team management platforms from which a lot of other industries that can manage to adopt work-from-home settings can greatly benefit.
Even if you can't develop apps that directly help, you can still focus on creating apps that will help them cope better while staying home quarantined – prevent them from panicking, for instance. As you can see, once you focus your efforts on ensuring the majority will be able to get through this crisis with minimal impact, it won't take long for you to figure out ways in which you can adapt your services to the present challenges.
Look at Mobile App Download Trends
Since quarantines were imposed, mobile app downloads in a lot of categories have seen notable surges in interest. Apps that are concerned with business, education, games, productivity, social networking, and utilities exhibit dramatic bursts in traffic volume since the crisis.
Overall, mobile apps are enjoying a more than 20% increase in downloads, which will undoubtedly be maintained as the coronavirus crisis continues. App developers need to pay attention to these trends and start acting fast on the surge in demand for apps in the said categories.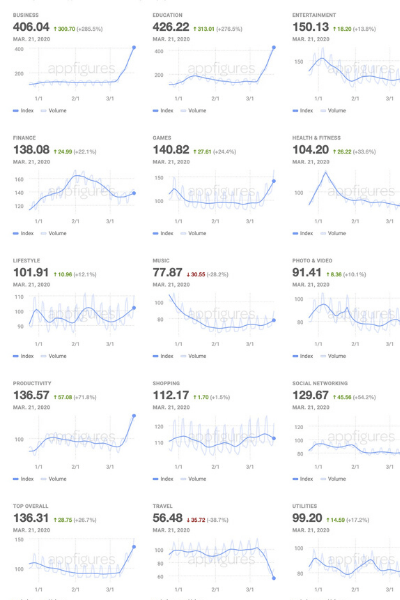 Image source: AppAnnie
---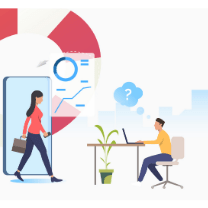 Are You Looking for a Creative Solution for Managing This COVID-19 Crisis and to Mitigate Your Business Obstacles Now?
We at Dot Com Infoway develop a team-oriented mindset with our clients, after all, and we make sure to give you sound advice as you continue your partnership with us. We will help you see openings and other opportunities that you might otherwise miss. And this goes for both app development and marketing.
---
Use Technology to the Fullest, Especially in Maintaining Essential Aspects like Communication and Staffing
There are numerous mediums for communication online already that it just won't do to close yourself off from them considering the boon they provide for people going through this pandemic. There's literally no shortage of platforms that provide this service. As long as you are already aware of the challenges to your business, this should not be hard to address.
That said, it really should be clear to you from here on what your business's core weaknesses that were exposed during the advent of the coronavirus crisis. This applies to technically all affected industries, making this an essential initial step to reduce the coronavirus impact.
Partner with On-demand Service Apps and Other Compatible Avenues for Safe, Empathetic Marketing
Since most people have been stuck at home due to lockdowns being imposed in a growing number of countries, on-demand apps have enjoyed a surge in patronage. If your business hasn't partnered with one yet and is pretty much eligible, it's probably high time for you to start doing so.
Many small food businesses have used these platforms as sturdy anchors that guarantee continuous patronage, after all. Carry out and delivery services will always remain a viable, safe option for a lot of people, especially if companies enforce minimal to no-touch policies. And it's not just limited to the culinary industry as well since other service-oriented industries can take part in this.
Do Not Fail to Look Ahead
You might get so caught up in addressing the present that you end up slowing down on lead generation and ensuring continuous operation and relevancy long after the crisis has died down. This underscores the need to concentrate all your initial in normalizing your business's operation as soon as possible. This way, once everything is, at least, in good working order, you can focus on acquiring leads that you can turn into long-term clients.
Other businesses (and there will inevitably be a lot of them) might get caught in the normalizing part that they might forgo lead generation altogether, which is a no-no. Plan how you will change your strategies once things begin to quiet down. This will, of course, not happen overnight – it might even be a painfully slow process for a lot of countries. But the key is to still not forget about the future, so you can make your services and products as versatile and relevant as possible.
Lastly, look for inspiration from the startups that made it big in the great recession of 2008. Companies like Pinterest, WhatsApp, Slack, and Groupon, to cite a few, were established during that time and have since evolved into the widely recognized and utilized platforms they are now. They fulfilled and delivered what people need and, more importantly, introduced valuable innovations that allowed people to have a different, more efficient way of getting things done.
Conclusion
Much like those who have been afflicted with this terrible disease, you should be willing to fight tooth and nail for your business's survival. The facts above go to show that adaptability, keenness of mind, and solid leadership are but a few areas you need to hone further when facing this crisis. Your business can still thrive, especially if you take a compassionate approach.