How Much Does It Cost To Develop a Messaging App Like Telegram/WhatsApp?
Venkatesh C.R
Since its release in 2009, WhatsApp has established itself as the yardstick of what makes a messaging app great. Its success is rooted in its ease of use, simplicity, and, of course, the fact that it's offered as a freemium product. This is why it's no wonder that many a mobile app development agency frequently gets projects that basically involve creating a messaging app like WhatsApp.
Are you interested in developing a Chat App Like WhatsApp or Telegraph? We'll tell you why it's worth it in this post, as well as outline the essential features and the cost considerations involved.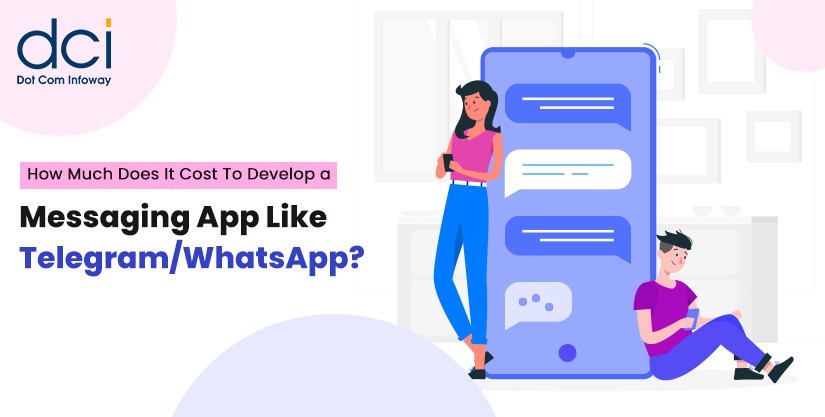 Why Creating a Messaging App like Telegraph and WhatsApp Is Worth It?
The stats say everything that needs to be said about WhatsApp's popularity:
The global total number of users as of the start of 2022 is over 3 billion. 

It enjoyed 6 million fresh downloads in India followed by Mexico's 5 million in the second quarter of 2022. 

As of this writing, it's got over a 90% penetration rate in countries like Brazil, India, Italy, Argentina, Switzerland, Finland, Germany, and so on, in 2022 alone.  been downloaded over 55 million times by Android users alone by that time.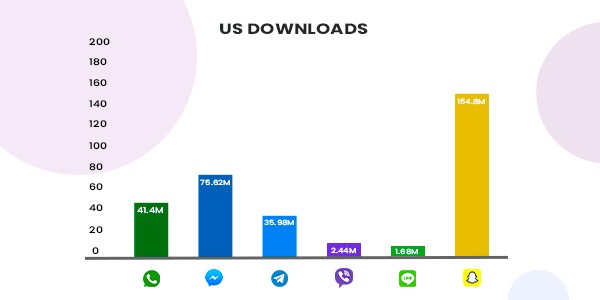 Now, you may be thinking, "Why bother making a messaging app like Telegram or WhatsApp if they're already the most successful in the messenger app niche? What's left of the pie?
The short answer is plenty. Notice how we pinpointed specific countries in the stats section? That means there are still plenty of opportunities to introduce a new messaging app like WhatsApp to other regions. 
Just look at China's WeChat, Eastern Europe's Viber, Vietnam's Zalo, Qatar's imo, and Japan's LINE. Once you look at the whole picture, it's clearly not a monopoly and apps similar to WhatsApp can definitely put up a fight – and win. 
What Are the Major Features You Should Consider?
Chatting apps like WhatsApp don't have to produce an exact clone of the platform. What's important is to deconstruct the elements that made it the exceptional app that it is. Based on our research and experience with our own clients, we've concluded that the following user, admin, and advanced features are essential to building a messaging app of that calibre:
Features For Customers
Registration
A given in any messaging app development project, user registration serves as people's gateway to your app. Normally, you will require them their contact number and sync with their contacts. 
Calls
Whether it's a voice calling or video calling, any user expects to be able to enjoy unlimited calls, make video calls, and join group calls as long as they're connected to the Internet. 
Multi-media Sharing
Messaging mobile apps can now rival social media platforms in the ease and agility with which they allow users to share images, videos, and other forms of media.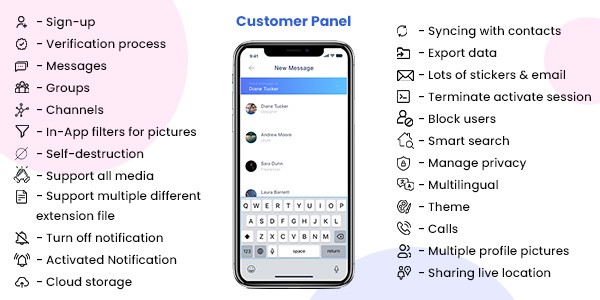 Notification
Another staple in instant messaging app development, notifications are a great way to remind and inform users about specific in-app actions they've done or need to do.
Syncing Contacts
Who wants to have to manually transfer their contacts list to another messaging app? With this feature, local data will automatically be synced with the server's data. 
Sharing Location
Google Maps integration via Android API is the current norm. This allows users to seamlessly share their present location with other app users. 
Features for Admin Panel
Login
This is important to authenticate any user identity trying to access the admin panel, which in turn contributes to added security.
Profile Management
Helps to keep track of user information overall. This includes allowing users to change their name and picture, and enter other personal information.
User Management
An online chatting app like WhatsApp needs to be able to handle user accounts in all their entirety. What permissions and roles will you give specific ones, and which ones need to be suspended for not following guidelines?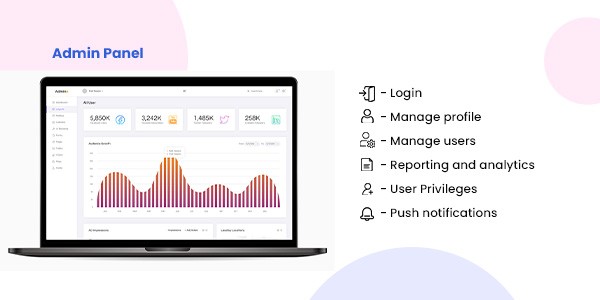 Reporting and Analytics
You can't skip looking at the data and other performance metrics if you want to make better decisions. 
User Privileges
This determines the exact features that the user will have access to based on the permissions you give them. 
Push Notifications
This allows you to communicate directly with all your users and even keep them engaged. 
Advanced Features
Cloud Storage Integration
Adds an extra layer of security to ensure optimal user data protection. 
GPS Integration
Allows users to share their current locations with their loved ones while keeping regular contact with them.
End-to-End Encryptions
Any messaging app like WhatsApp should reinforce the security and privacy of user messages and sensitive information against malicious entities.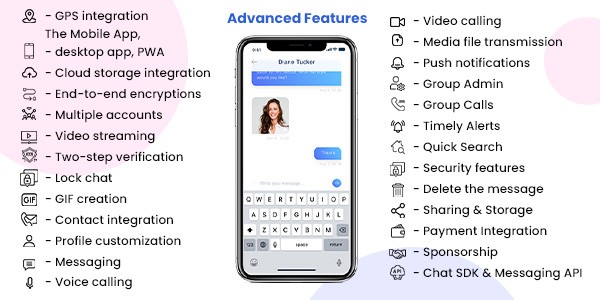 Two-Step Verification
Users should be allowed to give themselves peace of mind by enabling two-step verification through their phones after entering their password. 
Payment Integration
Any serious messaging app development guide recommends payment integration. By adding this feature, you'll be able to save users plenty of time when making payments or other related transactions. 
Sponsorship
Your new Whatsapp clone app can't get enough brand awareness once it's been released. By allowing sponsored content and ads from different businesses, you'll not only help them reach their audience but earn a regular income, too.
---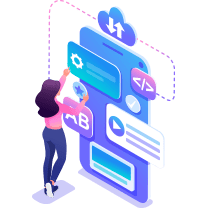 Are You Ready To Build Your Mobile App?
Dot Com Infoway's mobile application development services assist brands in navigating any aspect of the digital landscape while focusing on the needs of the customer and developing strategic mobile solutions that produce measurable business benefits.
---
Factors that Greatly Affect the Cost to Build an App Like WhatsApp
Besides the features, you need to be looking at the cost to develop a mobile app as well. Custom mobile app development may cost more or less, depending on the following:
Operating System
Mobile chat app development is no different from other app development projects in that you need to between making a Native app vs Cross Platform app. Cross-platform may lead to better cost-savings, but we can't deny the benefits of native apps in key areas such as app customization, performance, and security. 
Tech stack
Mobile app development trends continually point to enhancing security. By choosing the right tech stack alone, you'll be able to guarantee a more secure platform. In both OS, you can choose between Swift or Kotlin, and Elixir and Firebase for the backend and database, respectively. 
UI/UX design
Will you be adopting mobile app design trends? If so, they may cause you to deviate slightly from simple design philosophies, thereby, adding to the total development cost. 
Features and functionalities
The more features, the more the cost and time to develop.
Team of Designers & Developers
You need to account for how much each programmer and software engineer charge per hour or the entire team as a whole.
Time
Expedited projects will be prioritized but will inevitably cost more as a result. 
Let's Tally Up the Costs
What are the numbers behind the cost to develop a messaging app like WhatsApp? Well, if we look at the hourly rates of programmers worldwide, there's a clear discrepancy. We're talking about a range between $15/hr to $100/hr for programmers, with senior-level developers charging $150/hr.
Currently, an offshore app development team in India allows you to save tens of thousands of dollars when compared to those in Europe. We're talking about close to halving your total costs as $50,000 is the minimum in India while in the latter, it's $90,000. 
Conclusion
We hope we've given you a good, all-around picture of the fundamental factors involved when creating a messaging app like WhatsApp. It's an endeavour that's definitely well worth it, especially if you know how to manage your budget, define your goals, and find the right development and promotion team to work with. 
FAQs
1. How to build a WhatsApp app?
Align your efforts with your goals and a sound strategy coupled with great execution. If you hire dedicated developers from Dot Com Infoway, you'll get full support all the way. 
2. How much does it cost to build a messaging app like WhatsApp?
This depends on a lot of factors. It can be anywhere between $50,000 and $150,000. 
3. How long does it take to develop an app like WhatsApp?
There's no set timeframe since everyone's needs are different. However, if we're going to get the average time, it falls at more than 500 hours. 
4. Why hire experienced app developers for your instant messaging app?
They most likely have clients that have succeeded already, and they have the portfolio to back it up. Experience only serves as a safety buffer against needless losses in this regard.
5. Do messaging apps make money?
Of course! Just look at WhatsApp, which has continually increased its annual revenue and doubled it from $443 million in 2018 to $906 million in 2022 – despite being "free".