When & Why Should You Choose Dedicated Offshore Development Team?
Alfred
Developing applications is hard work that requires both skill and dedication. The margin for error is very slim, especially if you are developing a product with tight deadlines. In app development process, getting a team for your project is crucial. You can either build one or hire one. Building a team allows you to fill the spots with people you know or can verify. Hiring a dedicated development team for your project can become a challenging undertaking. There are several of them, with similar core competencies and offering various services.

What Is a Dedicated Development Team?
The dedicated development team business model is an agreement that exists between a client and a service provider where the service provider procures the services of professional software developers for the client on a long-term basis. The professionals must have a wide range of skills and qualifications as well as sufficient experience in their chosen fields.
Dedicated developers are appropriate for projects that are not defined very strictly and whose requirements are likely to change at any point in time. Getting a dedicated development team serves to reduce any shortfall caused by an absence of technical know-how and experience and fit in as quickly as possible.
4 Reasons When one Should Consider Outsourcing
1. When Outsourcing is Cost Effective
Lower labor and operation costs are one reason why companies choose to outsource a dedicated development team instead of hiring. When properly executed, outsourcing is cost effective as it focuses on the completion of a development project within a budget. Also, if a development project is not a primary service for the business, outsourcing a development team is a better way to cut on costs associated with hiring professional developers.
2. When it Offers Flexibility
When a company does not want to deviate from its core business processes, outsourcing for a development team is the better option. Outsourcing offers flexibility to a business because employees can focus on their core responsibilities. Development projects are time and resource demanding, and therefore, outsourcing reduces the likelihood of delays that could affect core business processes.
3. When Advanced Skills are Needed
Some development projects may require advanced skills and experience, which may lack among the technical employees in a business. Programming tools and skills are always evolving, and new trends are still emerging. If the skills needed for the development project are lacking among your technical employees, outsourcing is a great strategy to handpick programmers and developers with the right skills.
4. When Quality is the Core Interest
When outsourcing, companies get the benefit of handpicking the best skills, knowledge, and favorable costs. The opportunity to choose developers with advanced experience and skills guarantees that the quality of product delivered is top notch. Companies are more likely to prefer outsourcing as it enables project managers to choose experts that are more likely to deliver within the budget, deadline, and based on project requirements. Under outsourcing expertise and advanced skills, the quality of the final product is guaranteed.
---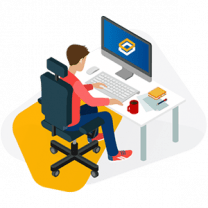 Are You Looking for the Top Offshore Software Developing Expertise?
Our dedicated resources excel in end-to-end web and mobile development. Hire your offshore development team at flexible hiring models to save time, reduce cost and bring large monetary gains to your business over in-house development.
---
Benefits of Hiring an Offshore Dedicated Development Team
But even all the difficulties associated with them, there are many benefits and advantages that could convince you to hire dedicated developers offshore.
Here's a list of reasons to hire a dedicated development team offshore.
1. Expanded Skills
Going offshore for your dedicated development team opens you up to a pool of talented developers all over the world. Such access expands your capabilities and takes obligations like rehiring or retraining of employees off your plate. With communication apps and methods in their current state, synchronizing the work of the offshore developers with any developers in the house is seamless.
2. Flexibility
Getting an offshore app development team allows project development to be agile and responsive to changes and obstacles that might arise. Offshore app developers are an addition to your internal team. With their help, delivering projects promptly and within budget constraints becomes easier, even when the priorities and necessities shift. This is especially useful when dealing with periodic and repeating tasks if they require more resources. E.g., new releases on strict timelines, startups, technology migrations, etc.
3. Shorter Starting Cycle
If you build a new team for the project you're working on, there will be a period where very little work gets done. The team needs to adjust to each other, learn how to cooperate, figure out their various roles, how to assemble and deliver all required deliverables, etc. Not to mention any disagreements that arise between team members is not easily settled.
Dealing with the growing pains of a new development team is a time-consuming task. Outsourcing to a dedicated development team eliminates all of that. The team members are already familiar with each other. They know how to work together; their roles are well-defined. Any disagreement doesn't grind their work to a halt. Getting a project started with a dedicated development team is much easier as they can hit the ground running.
4. High Level of Engagement
Offshore team management is key to project development. The dedicated developers need to interact with you, the client, and your team. One of many outsourcing team benefits is the control it gives you over the project. With daily or weekly communications and tools like Basecamp, JIRA, Slack, Skype, AceProject, etc., you can manage the team effectively. Holding collaborative sessions consistently enhances the team's productivity, which in turn produces positive results.
5. Focus
Going with an offshore app development team promises you focused work with zero distractions. The offshore team's development process will move on, and they will remain accessible for any new developments or proposals.
6. Reduced Costs
Starting a new project will require a significant investment in hardware and software. Workstations, servers, licensed software, etc.are necessary for project development. Outsourcing your development is also a great way of reducing your expenses, especially in terms of infrastructure and overhead expenses. It is a more expensive undertaking to build a team of developers locally and provide them with the required resources or increase your local team.
7. Predictable and Defined Budget
Using offshore dedicated developers is a good way to make sure you don't go over your budget. The agreement signed with the dedicated developers will define the terms of engagement governing the project. It will indicate the deliverables due, the timeframe for submission of deliverables, the various costs, and expenses, etc. This way, there are no surprises vis-a-vis the budget.
8. Industry Expertise
If you can get an offshore development team that has experience in the particular industry you find your business in, they can provide advice on how the project needs to proceed and what the competition is doing. It's also quite comforting to know that your development team has successfully developed projects related to what you are working on.
9. Technical Expertise
An offshore development team is also well-versed in the latest technologies in use. They need to be to stay competitive. Core competencies in areas like cloud computing, database management, programming, etc.are just a few of the technical skills offshore developers bring to the table.
10. Extra Services
The project's development may have a specific end, but its success will depend on what happens after the development period is over. Things like search engine optimization, social media marketing will be crucial to increasing the likelihood of the project's success. Going with a dedicated development team also gives you access to the wide range of services they provide. All of these will contribute to the success of the project. There are other services that come with dedicated developers like domain expertise, quality check before final delivery, etc.
Conclusion
As you can see above, hiring offshore dedicated developers for your project is a good idea. It goes beyond just cost saving and skilled employees that know how best to work with each other. It also benefits the project long-term, during, and after development. Having dedicated developers also works for clients with an intimate understanding of the ins and outs of project development.