Must-Have Features of Sports Betting App Development & Cost Estimation
DCI
Sports Betting App Development is no different from any kind of mobile app development. Ultimately, you can't just keep shooting in the dark like any wanton gambler. The Mobile App Development Agency you decide to work with will tell you as much, and, undoubtedly, more.
Before you even try to test the waters, you should take the time to know where the market currently stands, what types of sports betting apps to choose from, and the fundamental features to include. Continue reading to familiarize yourself with all three.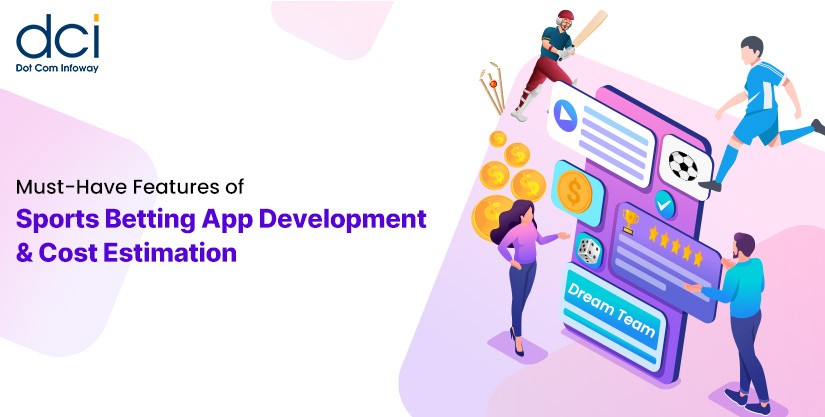 The State of the Sports Betting US and World Market at Present
It's an open secret in the gambling and mobile development industries that Sports betting apps and, hence, Sports Betting App Development, are booming. It's the largest sector in gambling. All these figures point to steady, increasing patronage and clear growth. 
Sports Betting's market size amounted close to $195 billion worldwide according to a Statista June 2022 report. 

2021 saw a 115% increase in women using sports betting apps in the US.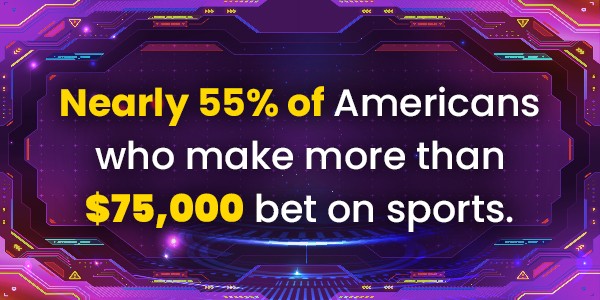 Most Popular Sports Betting Apps
In the world of sports betting, there are just some apps that people flock to because they deliver everything they need. We're basing this table on the number of downloads and the download-to-rating ratio of the apps.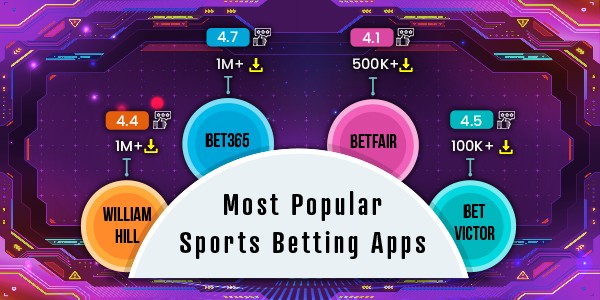 As far as the overall betting experience is concerned, DraftKings Sportsbook remains on top. If you've been looking for a FanDuel Sportsbook-like app, then that's a great example. 

Betfair and 888 Sport are but some of the sports betting apps like William Hill, which is considered the largest company in the US gambling market.
Every Type of Sports Betting Available
Knowing each of these types is nothing short of crucial for successful Sports Betting App Development. 
Crypto Sports Betting
These are simply bets that go through cryptocurrency platforms like Bitcoin and other altcoins. The best advantages this provides are quick withdrawals and better bonuses. 
Straight Bets
The most popular type used by a lot of people betting on basketball and football games, it's a preferred choice due to its straightforwardness. 
Point Spreads
This is equally popular because you're betting on the margin of victory instead of the player or team. 
Total Line Bets
You wager on what you think will be the total points by the game's ending.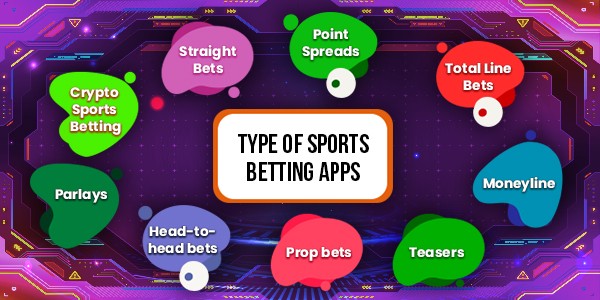 Moneyline
You bet on who you think the winning team will be. Whether the team is the underdog or favorite determines how big or small the reward is. 
Teasers
This is a lot like point spread, but the payoff adjusts according to shifts in favor. You receive lower rewards if it shifts toward your bet; this is ubiquitous in cricket betting apps. 
Prop bets
Think of these as bets intended for novices. They're found aplenty in Custom Sports Betting Apps, since they allow you to quickly bet without knowing any in-depth knowledge about the sport and the involved in them. 
Head-to-head bets
A variation of Moneyline, instead of betting on teams, you bet on single winners, like how gambling in horse racing usually goes. 
Parlays
Your profits balloon as more people add to the winner's pool. This is risky, though, as the whole sum can be lost if a single bet included in the pool loses.
---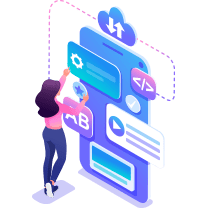 Grow your Brand with Potential Mobile Apps
Our team will assist you in creating useful and smooth experiences on any device and utilising mobile technology to your advantage by drawing on their strong knowledge in mobile app development. We develop customer-focused, strategic mobile solutions that produce measurable business benefits.
---
The Essential Features of a Sports Betting App
Now that we know the types, let's proceed with a fundamental facet of the Mobile App Development Process: figuring out the features to include. They are subdivided into user panel and admin panel features.
It would do you a load of good to discuss the viability of all these features with your chosen online sports betting app development agency or sports betting app development company. That said, you should already have clear goals for your app by that time. 
User Panel
Easy Login Feature
A must in any custom mobile app development, gamblers are no different when it comes to being able to place their bets as soon as possible. They should be only asked for their email/username and password. 
Sport or Player Options
Any comprehensive sports betting app should be able to provide multiple options for sports and the leagues that comprise them. The same goes for the players included in those leagues' respective teams. 
Live Streaming
This is crucial for most betting types, but especially so for teasers. The point is the bettor needs to have a great point of reference to make timely and effective wagers. 
Betting Guides
You follow an app development guide to create quality apps, so why should it be any different for gamblers? These can be about how to place bets on your app with a couple of helpful tips on how to improve odds thrown in the mix. 
Selecting Betting Types
Assuming you include a number of the types mentioned above, the user should be able to easily choose the one that he or she thinks will be the most profitable for a given match-up. 
Practice and Free Play
Being able to bet without the risk of losing money is one nifty feature to have, especially if users are still familiarizing themselves with how your app works. 
Better Control and Privacy
Betting apps should be able to guarantee total privacy for users. Gamblers are no different from people who shun websites that aren't transparent when it comes to their privacy policies, after all. 
More Varied Games
You can't go wrong with adding games that break the monotony of most of the standard betting modes. 
Convenient Communication
Sports betting is as much a social activity as it is a form of entertainment. Make room for chat features in your app. 
Admin Panel
User Management
As an admin, you shouldn't have a hard time managing your users, especially how they bet and keeping a tally of their wagers. A well-designed dashboard usually suffices. 
Access to Bookies
The bookies determine the profit share of every sporting event since only they have the data regarding wagers on teams and players. 
Prize and Payment Management
The admin should be able to easily manage the money received from bets and handed to winners. 
Cost Considerations and Estimations
Next thing, How Much Does It Cost to Design, Develop and Launch a Mobile App?. Here you can overlook Sports Betting App Development Cost Estimation, too. Decide on factors such as where you stand in Native App vs Cross-Platform App Development for your app. According to recent studies and polls, the cost to develop sports betting apps will be between $10,000 and $50,000. That's just one major consideration. Refer to the following table for the app development process with the estimated time to execute it.
| | |
| --- | --- |
| Sports Betting App Development Process | Weeks |
| Market Analysis | 2 |
| Conceptualization | 2 |
| Scoping | 2 |
| Requirements Elicitation | 3 |
| Wireframing | 3 |
| Designing | 4 |
| Development | 15 |
| Beta Testing | 4 |
Conclusion
Take the complexity out of Sports Betting App Development by remembering our points above. Tick essential checkboxes such as variety, convenience, fun, communication, and user privacy when adding features.  
Lastly, be mindful of the cost to develop sports betting app and, while you're out at it, be on the lookout for the changes in mobile app development trends. You never know when that one trend that fits your objectives to a tee might appear. 
Related Articles: