The Cost to Develop & Takeaways from Taxi Booking Apps like Uber, Ola & Lyft
Raja
Mobile apps have taken the taxi business by storm by providing a better booking experience than traditional taxi services. Taxi booking apps like Uber taxi booking, Ola and Lyft have unique business models that ensure they provide efficient and affordable services while still remaining competitive.
Despite being founded just 6 years ago, Uber has experienced massive growth and is among the fast-growing companies in the world. If you are thinking of developing a similar app, there are many takeaways from these popular apps that can help you grow your taxi business company. First, you need to have a clear and simple business model.
Then you can follow it up with a user-friendly taxi app. The app must have all features to allow easy booking and management of the business. Below are some of the vital features your taxi booking app should have.

Important Statistics and Revenue Data Related to Taxi Booking Apps
In this section, we will look at some of Uber's important statistics since it is one of the top companies in the taxi app business.
Uber has been in operation for over 9 years. The company was launched by Travis Kalanick and Garrett Camp in 2009. The company later released their taxi booking app in 2010.
Uber operates in about 632 cities across 78 countries.
According to Barney Harford, Uber's first-ever chief operating officer, the company's trips have hit 10 billion rides.
The ride-hailing giant has 75 million active users with the number projected to rise to about 539.49 million by 2021. Also, the company manages a staggering 15 million rides daily.
According to data by CrunchBase, the company has a total funding of $242 billion. The report further says that the company is valued at $120 billion.
Essential App Features for a Taxi Booking App
1. Geolocation Feature
The Geolocation feature is beneficial to both the driver and the passenger. It allows the driver to identify the passenger's location and provide point to point direction on the map that enables the driver to get to the passenger. The passenger is also able to see the drivers location, to be able to estimate the arrival time.
2. Push Notification
You should also be able to send notifications to the passengers. The push notifications should include the cabs that are available nearby, and how the passengers can connect with these cabs. They should also give the drivers details including their name, contact information and their vehicle details.
3. In-app Payments
Integrating payment within your taxi app gives users multiple payment options. These include credit and debit cards, cash and e-wallets. Additionally, it enables you to easily give your customers discounts when they pay using gift cards and promo codes.
4. Rating and Reviews
Customer feedback is important as it fosters accountability among drivers and helps fleet owners to provide better services. If you want drivers with good behavior and a sense of responsibility then you must include this feature in your mobile app development. The feature allows passengers to give rate and give comments about the riding experience after the trip.
You may also want to include additional features that will provide a better booking experience for your passengers. Some of these features may include;
Listing of preferred drivers where passengers can have a list of their favorite drivers.
Advanced booking. The users should also be able to book their trip in advance. This should include the pickup location, the time as well and the day for the trip.
Taxi apps like Uber have different features for passengers, drivers, and the admin. The different features are listed below;
Passenger App
Pick up and Destination Address
Taxi arrival estimated time
Real-time Cab tracking
Scheduled booking and confirmation
Vehicle options
Automatic fare calculation
Automated e-receipts
SOS (for emergency)
Driver details, rating, and reviews
Driver App
Cab Tracking System (GPS)
Scheduled bookings
Automated e-receipts
Automatic fare calculation
Route Selection
SOS Contacts
Rider comments and ratings
Admin App
Passenger and driver management
Complaint management
Vehicle and trip management
Vehicle Tracking System (GPS)
Revenue management
Geo-location boundary settings
Arrival & departure time of the taxi
Billing & Invoicing
Driver commission
The Different Ride Options by Uber
Passengers usually have different needs. Some customers may have a bigger budget while others might have a smaller budget for their trip. It is important to cater to all your customers' needs by providing them with different ride options. This way they can choose an option that is convenient. Uber, for example, gives its customers various ride options. This strategy has helped Uber business to thrive well in different places. Here are some of the ride options Uber has for its customers.
1. UberX
This is the most common Uber ride. It offers private and express rides to passengers. It is mostly used by people with a bigger budget as it includes luxurious cars.
2. UberPOOL
This ride option allows users to share a ride thereby cutting the cost of transport. Users log into the app and choose the UberPOOL option and enter their destination. Uber will then match your vehicle with other passengers headed in a similar direction. The app will then estimate the arrival time of the cab as well as the time it will take to reach their destination. Usually, this option may take you longer to reach our destination as there may be extra pickups and drop-offs along the way.
3. UberGO
This is the cheapest Uber ride available. It is a small cab that carries up to 4 passengers and does not have enough space to carry too much luggage. You can also provide an affordable ride like UberGO on your mobile app development. Such an option will allow you to get more riders who might be able to afford the high-end taxis.
Takeaways That Startups Should Consider When Developing an App like Uber
While it is important to develop a unique app to beat the competition, it is good to take some lessons from already successful taxi business companies like Uber, Ola, and Lyft. Before creating a ride-hailing app like Uber, startups should consider key factors that will benefit their passengers. Below are some of them.
1. Make It Simple
Make your business model simple and scalable. According to Subrah Iyar, a co-founder of Moxtra and Webex, the success behind taxi app company Uber lies in its simplicity. Startup should also make sure they make it easier and more efficient for users to use their apps and get the services they need. One lesson for startups is that Uber was able to have a clear vision form the beginning. They had internal control tools to help the business run in accordance with their vision. And they were also able to observe customer feedback to help the business adapt to changes.
2. Solve User's Problems
The first step to solve peoples' problems is by integrating your services into people lives. Like Uber strived to solve the transportation problem in Francisco by providing a classy ride with just a push of a button, you should target to improve people's lives with your app. You can do this by offering affordable services while helping people to save time by providing them with a booking experience that requires a few simple steps.
3. Reduce Infrastructural Requirements
One reason taxi booking apps like Lyft, Ola, and Uber have been able to grow is that they have managed to cut their overhead costs by using a simple infrastructure. A simple infrastructure allows companies to grow faster as they are able to easily adapt to the changing business environment. Uber, for instance, hires noncommercial drivers to help reduce their operational costs. Startups should also cut on their expenses to become more cost-efficient. This way they can be able to compete better both on service and on price.
---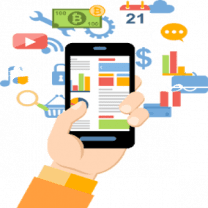 Get Ready to Expand and Automate your Taxi Business
Having Issues in tracking all your drivers? Start work with experienced taxi app developers from Dot Com Infoway to develop a dedicated taxi app like uber for automating and expanding your business.
---
The Exact Cost of Developing a Taxi Booking Apps like Uber, Ola, and Lyft
The cost of developing a taxi booking apps like Uber is determined by a number of factors. First, it will depend on the platform you choose. The two major platforms you can consider include Android and iOS platforms. Generally, it will cost more to develop an app on iOS compared to an Android app.
Other factors that determine the cost of your taxi app include the complexity of the app and a list of features. The list of features may also vary from the driver app, passenger app, and the admin interface.
The following is the breakdown of the cost of developing a taxi booking app like Uber, Ola, and Lyft.
Features and Average Hours of Development
Passenger App
The registration feature will take about 40 to 46 hours for iOS and 36 to 42 hours for Android app.
This will take about 78 to 84 hours for iOS and 72 to 78 hours for Android apps.
Approximately 16 to 20 hours in iOS apps and 14 to 18 hours in Android apps.
Approximately 46 to 50 hours in iOS apps and 40 to 46 hours in Android apps.
This feature will take about 22 to 28 hours for iOS and 22 to 28 hours for Android apps.
Approximately 44 to 52 hours in iOS apps and 42 to 50 hours in Android apps.
Approximately 34 to 40 hours in iOS apps and 30 to 36 hours in Android apps.
The rating option will take 38 to 44 hours for iOS and 38 to 44 hours for Android platform.
Driver's App
Time in hours for iOS 40-46, and Android 36-42
This feature allows the drivers to notify passengers about their availability. Time in hours for iOS 24-30, and Android 22-28
Answering Booking Requests
This feature is for drivers to decline or accept passengers booking requests.
Time in hours for iOS 40-46, and Android 38-44
Time spent in hours for iOS 38-44, and Android 30-36
To notify the driver on his activity and available ride requests.
Time spent in hours for iOS 22-28, and Android 22-28
Admin Dashboard
The admin dashboard allows you to manage both the passengers and drivers accounts. On average, it will take 60 to 80 hours to create a good admin dashboard.
Design
The US and UI design will determine the number of users who will be willing to use your app. Make your UX/UI design simple and enjoyable for your users. Such a design will take between 160 to 200 hours to complete.
From the list of features and design of app above it will take a total of 702 to 838 hours for iOS and between 662 hours to 800 hours for Android platforms to complete your Uber clone app.
The hourly rates of taxi app development vary from one country to another. According to Statista, the following are some of the average rates.
North America — $60-250 per hour
United Kingdom — $60-150 per hour
Europe — $20-120 per hour
India — $10-80 per hour
Conclusion
So, if you are ready to develop your startup consider having a simple and scalable model for your business like Uber, Ola, and Lyft. You should also develop an app that meets the needs of your customers. And to top it up, include all the essential features during your mobile app development process but make them simple and straightforward to use This way you provide a better booking experience that people require from a taxi app.
Related Articles: