How Much Does It Cost to Develop a Ride-Sharing App
Ruban
With the advent of ride share apps, there has been a drastic decline in the number of riders that are using taxis. The colossal success of Uber is known worldwide, and what started as a high-end luxury limousine service has quickly transformed into one of the world's largest provider for driving and transportation to its end users.
Uber came at a perfect time, just as the newer generation was getting more mobile, they introduced the app as a way for drivers to come to them, and these drivers would be available at the click of a button. Client's loved this idea, as they didn't have to wave down a taxi, negotiate a price, or even pick up a phone and place an order and an agreed meeting place. Users knew exactly what they are paying, and the GPS could pinpoint their exact location, especially in unfamiliar areas.
Developing a ride share apps can be daunting, especially since the market is so saturated. The best time to have developed this sort of app was before Uber, Lyft, Grab and similar service providers popped up. The strength of this business model is that both the drivers and the customers are inbound, and you own no vehicles or inventory. In this article, we will try and summarize all the costs, time and potential features you would need to add to your app.

Customers App
Starting with the customers in mind, we need to focus on what sort of features they would like. If you are looking to start a new ride-sharing app, you have probably used one of them before. What did you like about Uber? Lyft? What did you wish they had for your end? These are the types of questions that need to be posted before creating the user interface and characteristics. Only when you have determined what you are adding to your application is when you can roughly estimate the cost and time that is needed to implement it
Here are some of the features of the customer module ride-sharing app,
Registration
Searching for a Driver
Receiving Real-time Notifications
Gps and Location Determination
Booking Rides Ahead of Time
Payment
Ability to Communicate Life Happens
Cancellation Policies and Methods
Registration
The most important and basic feature of your app needs to be the registration. Making a safe and encrypted environment where the customer can store their credentials, and even connect it with their social media sites for easier access and ability to post.
Searching for a Driver
The purpose of the ride share apps is to be connected with not only a driver but with other passengers that are looking to take a similar route to save extra money. Your potential clients should be able to choose their preferred route, type of transportation and the option to travel with passengers or not
Receiving Real-time Notifications
lt is important that the user is notified of all live events occurring, including updates from the driver or from other passengers that might delay the arrival of the vehicle.
GPS and Location Determination
Other than the driver and other passengers checking in to let you know of any updates, there is also the important feature of GPS locations, so they know they are, where other passengers are and where the driver is.
Booking Rides Ahead of Time
A big advantage that ride share apps have over hailed a taxicab is that they have the ability to book a pre-determined time at a pre-determined location. This is very important for scheduling trips to airports, venues, dinner parties, and other endless possibilities.
Payment
A mobile app needs to have a very flexible payment structure. Are you clients able to pay quickly using their credit card before the ride? Can they use PayPal, Stripe and other online wallets? If the users are sharing their ride beforehand can the payment be split amongst the party and distance?
Ability to Communicate Life Happens
As much as we like to plan everything beforehand, there will eventually arise some issues or inconsistencies. Users would be thankful to have an avenue of communication with both the driver and other passengers.
Cancellation Policies and Methods
Whether last-minute or ahead of time, clearly state your cancellation policy and methods. Users will often need to cancel due to urgencies, changes and other unforeseen circumstances.
Drivers App
Drivers are the backbone of your business. You will need a well-established driving staff in order to fulfill all requests from your clients. Whenever you have anyone under your employ, it is always a difficult and daunting task, much more so with staff that is not directly employed by you Rideshare drivers can set their own hours, cancel rides and bring their own car to give rides. You will need to implement a proper way to check their background, and a proper incentive system to give you as much of their time as possible.
The following features are crucial,
Account Login
The driver's account needs to be safe and secure from all possible hacking attempts in order to be trustworthy, and have an appealing user interface.
Accepting and Rejecting Rides
Since a ride share apps is done on the driver's time, they should be able to deny or take on as many jobs as they want, when they want.
Details of the Trip
Before setting off on their journey, full trip details need to be provided so they can estimate their cost and time spent, or if they would like to avoid certain areas.
Navigation Systems
An enormous advantage that rideshare has over taxicabs is that they provide GPS and mapping. Make sure your app has a built-in navigation system to make the driver's job a lot easier.
For the navigation map, the driver can be able to identify the route to use to pick-up the client and the co-travelers. The driver can use the same navigation map, to get to the destination of the client and the co-user.
With the contact information detail stated out, the driver can communicate with the client to know where they are and which route he or she should use to get there.
After getting the estimated fare, the driver can receive payment from the client and the co-traveler.
Communication
Just like the customer section, there needs to be a clear and concise avenue of communication between drivers and other clients.
Ability to receive compensation
Clearly define your pay structure, what expenses are covered, and how much money each driver will make from each trip. Let them know all crucial details, including the method of payment and frequency.
POPULAR RIDE SHARING APPS
UBER
Uber is the biggest ride-sharing app in the industry. It is available in numerous cities around the world making it easier for clients to use it when traveling. The app can give you an estimated price of where you're going before you request for a ride. You simply have to put in your current location and your destination.
The app offers clients a vehicle option depending on their budget and requirement. This includes UberX, UberxL (large vehicles), UberBLACK (Luxury cars), and UberPOOL that allows passengers to share a ride and fare.
Additionally, Uber app added a feature that allows customers to request for a ride on behalf of someone else. It allows users to pick a name from their contact list and apply for a ride to the riders' final destination and even pay for the trip
LYFT
Lyft shares the same popularity as Uber in many cities in the USA. Unlike Uber which is available in many countries worldwide, Lyft only operates in U.S. cities Like Uber, Lyft has the same price estimation, different ride credits, premium options, and promotions.
Lyft app features a home screen map that displays the current location of the user. The User is required to drag the pin on the map to select their pick up point if the map does not show the riders current location. Once you have picked your location, an "Add destination" bar will appear.
Unlike other ride-sharing apps, Lyft has added a new feature that allows the passenger and the driver to save time. It directs the driver to on the best routes to take so as to avoid traffic or other hindrance that may slow down the ride. For a passenger, the app shows the time one can save if they walk to the nearest pickup point.
GRABTAXI
Grab a Singapore based ride-sharing app. It emerged in 2012 and now it delivers taxi services in over 55 cities across Southeast Asia. It is Uber biggest rival in Southeast Asia.
Grab offers new drivers' experience features which include increased earnings, better support, efficient tools, and strong community. When it comes to pricing, they charge less than their counterpart.
GrabTaxi app has a feature for rewarding drivers and in-app training videos and questions. From the questions, the driver can earn points which can be redeemed for special rewards. Additionally, Grab allows their users to book taxi services 7 days earlier.
GrabTaxi app offers a wide range of taxi options so that users can hire a cab instantly. From the wide range of taxi services, users can request for a cab depending on their budget and requirement. The taxi services in Grab include Grabcar, GarbTaxi, and GrabHitch.
Additionally, GrabHitch has started bike-sharing services. These include GrabCycle Beta, oBike, GBikes and Anywheel.
---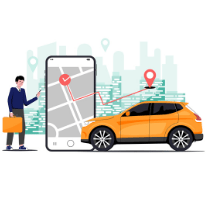 Are you ready to launch your Ride Sharing App?
Kick start your Ride Share Apps Development with the support of our expert Mobile App Developers. We build a reliable and affordable App Solution for your shared transportation service with advanced features based on your requirements.
---
Cost for Developing a Ride-sharing App
The main question people ask is how much it cost to develop a ride sharing app. The answer is that there is no estimated price clearly stated. This is due to the factor that there are many attributes that affect the final cost.
Some of the features that may increase or decrease the final cost include:
The platform used for developing the app-It can be Android, iOS or Web
App version to be developed either MVP or a pack feature the mobile app
The procedure used to develop the app
The location chosen for the app usage: the USA, UK, India or any other country.
The above features are just the basic of developing a ride sharing app. Even with the basic information, it is still difficult to analyze the exact cost of developing an app.
Following an estimation is done to determine the cost of the apps, it was established that it takes 120 to 150 hours with all the users mapping and tracking features.
This culminates to an estimated cost of $8,000 to $ 15000.
For iOS developing the base code architecture and business analysis and communication takes 469 hours while developing user features takes 226.8, which adds up to 695.8.
For android developing the base code architecture and business analysis and communication takes 575.4 hours, while developing the user feature takes 273 hours which adds up to 848.4 hours.
Developing the base code architecture, business analysis and communication, and Web Service API for Web Service (API), Frontend and Backend Website takes a total of 511 hours.
This is after the developer has complete base coding architecture, business analysis and communication, user feature (for Android and IOS), and Web services for Web. You should also note that the above hours vary from one developer to the next.
Are you ready to develop Mobile Apps? or Need any Clarification? Get Mobile App Consultation Services from us.
Related Articles: