Game App Development Cost Estimation For All Mobile Game Genres
Venkatesh C.R
Game app development cost is as varied as the numerous categories of games out there. In fact, much of what determines expenditures hinge on the type of the app itself. However, as any responsible mobile app development agency will wisely advise, it pays to equip yourself with the necessary information first before you even decide to test the waters of game app development.
We highly encourage you to read this comprehensive guide to gain a clear picture of where the industry stands at present, besides learning more about the costs you need to anticipate, the process of game app development, monetization, and other strategies.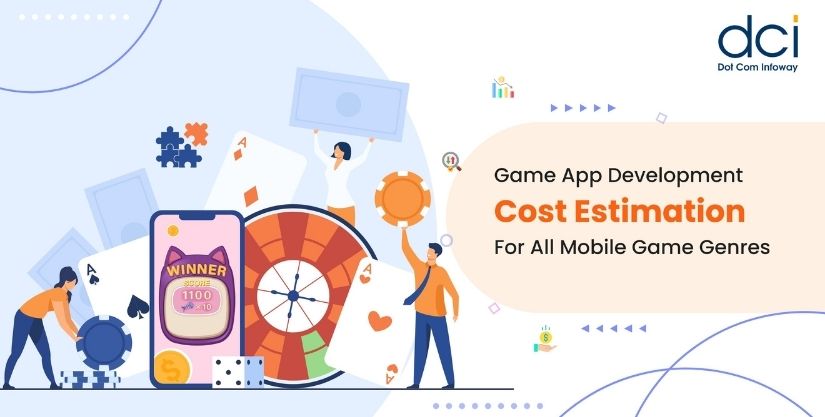 Mobile Game Market Trends in 2022
Over 1.8 billion people have downloaded a mobile game according to Statista. In 2023, mobile games are expected to generate up to $100 billion in income, and this is only proven by the stats that show mobile games as the primary drivers of revenue in the gaming industry.

There's a considerable preference for hyper-casual games as evidenced by the 45% growth in these games in

mobile game market trends 2020

and 4 billion downloads for action hyper-casual games alone. However, they're actually at the bottom when it comes to overall revenue share, especially in the US having only a 0.06% share.

Subscription-based monetization is fast-rising and becoming the preferred option for top-grossing games like Fornite and PUBG. 

Gamers now want to watch and socialize as much as play games, highlighting the importance of integrating social features like real-time chat in-game.
The Main Types of Game Apps
Card Gaming Apps
These could either be original games with card mechanics or digitized versions of tabletop card games. In-app purchase revenues reached $6.2 million in 2022, while advertising revenue reached $10.8 million. In 2019, 15% of total gamers on Android played card games.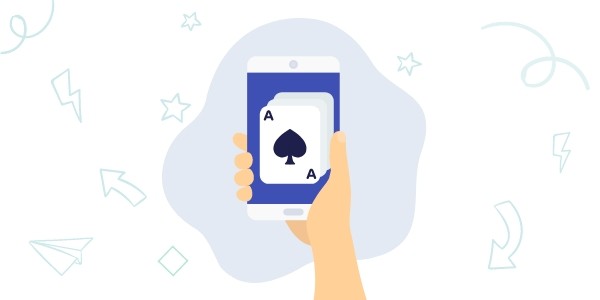 Arcade Gaming Apps
Arcade games appeal to a lot of players due to their simple but highly entertaining mechanics. They had a 1.34% revenue in 2021, which is at the bottom three. Arcade games like Hearthstone are preferred by mainly Millennials.
Adventure Gaming Apps
These are games with a wide scope and storyline and usually have either complex or simple game mechanics. Adventure games revenues are projected to reach $19 million in 2022 with downloads up to 14 million in the same year. Games like Genshin Impact often have varied demographics with an average age of 35.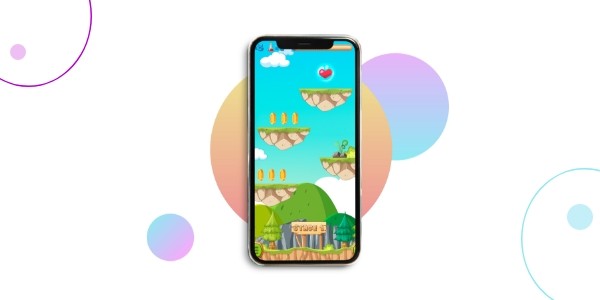 Betting Games
Anything that involves casino or online betting falls under this category. Casino games actually have the second-highest revenue share in 2021 at 18.9%. Players are overwhelmingly male with 81% making up the majority. The average age of players is 37 years old. 
Puzzle Gaming Apps
Mind-stimulating traditional crossword puzzles to more sophisticated brain ticklers with a mix of mechanics from other genres make up this category. Puzzle games occupy the highest share in revenue in 2021 with a 21.1% share. Majority of Gen Z players like puzzle games. 
Role-Playing Gaming Apps
These games overlap with adventure games but there's an obvious focus on character development through leveling up. It's interesting to note that role-playing games had the most ad creative, 6.6 million to be exact, in 2021. RPG games are Millenial players as evidenced by the popularity of games like Raid: Shadow Legends and classics like Final Fantasy VII.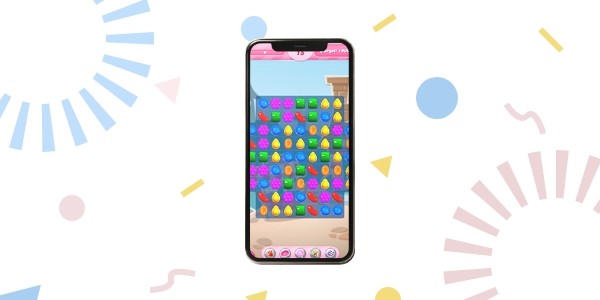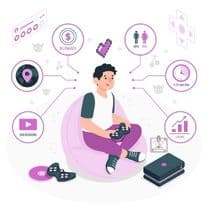 Hire our Mobile Game App Developers
With the Game App Development expertise, we've worked on a variety of mobile games for clients ranging from small businesses to large types of enterprises. Give us a call, and our team will get back to you to discuss how we can make your ideal mobile game a reality.
What Does the Mobile Game Development Process Typically Look Like?
This serves as an outline of every essential step in the mobile game app development process that every gaming developer should keep in mind in every project. 
1. Game Design Document
GDD in short, this document reflects not only the graphic design but the concept (including the story) and mechanics as well. Where and when will the game take place, its story, and what's the manner and scope of the gameplay?
The GDD should also include gathering requirements for the platform you'll be developing in (i.e. Android or iOS), whether it's single-player, multiplayer, or more social, target market (including countries), update frequency (determines the regularity of asking users to update your app), language to use, etc.
2. Creation of Technical Specifications
We provide a general overview of requirements pertaining to technical design, development, and other pertinent procedures that will be carried out. 
3. Prototyping
As the term readily suggests, this is done by almost every game app development company to provide a preview of the game. The prototype will often only include the general design of the game along with the most important mechanics. 
Prototypes provide invaluable insights about areas that may need improvement. For example, perhaps a specific level may be too hard (or easy) or there may be features that can be exploited later on. 
4. Architecture Design
Laying a solid foundation on the app's development architecture will only allow it to smoothen up plenty of processes and introduce improvements and updates with as few efforts as possible. It affects the speed at which you'll be able to present the most desirable content to your users and determines overall scalability, so don't overlook it.
5. Programming
This is where the bulk of the development happens. Javascript remains a top programming language, along with Kotlin, HTML5, and C++. Be sure you're working with the most ideal game engines such as UNITY, UNREAL & platforms, tools for the game genres you choose to develop for. 
6. Testing
Besides bugs and errors, you should also be on the lookout for QA requirements you may have overlooked as well and, more importantly, feedback from game testers. QA engineers often divide testing into sections like load testing, usability testing, performance testing, to cite a few.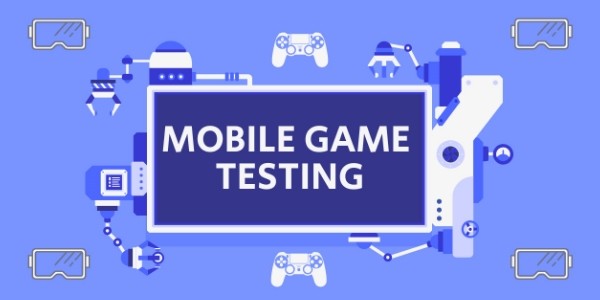 7. Launch and Maintenance
Last but not least, plan how you're going to launch your app. Naturally, a date has to be set. It helps to already start building your online presence in the days, weeks, or even months leading up to the launch.
Maintenance, on the other hand, involves introducing fixes and updates to bugs you discover, monitoring performance, and checking licenses. 
Essential Features of a Game App
Simple Controls
A vast majority of gamers like games that are not hard to play. This includes the gameplay, which should always allow users to direct the progress how they want to.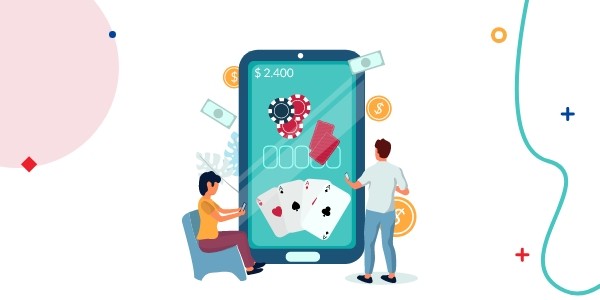 Graphics
It should suit the expectations of your target audience. As much as possible, keep it matched with the overall theme of the game.
Sound Effects
Sound is as important an aesthetic as graphics. Most players will quit a game in a heartbeat if your chosen sound effects vex their eardrums.
Loading Speed
As in any kind of app, you want your content to load as quickly as possible. Less than 4 seconds should be your gold standard. 
Engaging Gameplay
If it's an RPG or adventure, be mindful of the story-telling. If it's a puzzle or arcade game, players should get the hang of it in no time and should always offer a fresh challenge, but not to the point that it is overly difficult.
Game App Development Cost
As we've mentioned before about how much does it cost to make a game app, the amount varies a lot. The range of development expenses usually ranges between $8K to 25 Million. Nonetheless, developing gaming apps is generally an expensive endeavor. 
You'll have to consider pre-development costs, the platform you'll be developing in, design costs, types of games, and the game's overall complexity. Refer to this table to get a better breakdown of costs.
| | | |
| --- | --- | --- |
| Game Types | Popular Examples | Cost Estimation |
| Test Prototype / Playable Demo | Demo Games | $8K to $15K |
| Hyper-Casual Game | Rise Up | $25K to $100K |
| Casual Game | Subway Surf | $45K to $100K |
| Midcore Game | Clash of Clans | $70K to $500K |
| Hardcore Game | Pubg, Free Fire | $100K to 3 Million |
| AAA Game | God Of War | 1 Million to 25 Million |
How to Go About with App Monetization
Mobile game app developers rely largely on in-app purchases, advertising, and freemium models when doing app monetization. The riding trend of subscription-based games proves there's always another opportunity to look into when thinking of ways to earn money from your game. 
What's sure is that any game can be monetized to the fullest with the right strategies and effective use of marketing data.  At Dot Com Infoway, we have a dedicated arm responsible for rendering mobile app marketing services. These services include a diverse combination of market research, expert suggestions, data-driven strategies, PR services, game events services, among others, with a focus on helping developers achieve their exact marketing goals. 
Conclusion
Few things are more gratifying than working in a niche that you love. If this is the case in your intent to develop mobile game app products, you're far more likely to be willing to learn, budget, and strategize more. That being said, we hope that you work with the game app development company that will be able to completely bring your vision to life, with strategies and improvements for success factored in. As a leading mobile game app development agency, we guarantee no less than that.
Related Articles: