Grocery App Development Cost Breakdown That Maximizes Success
Venkatesh C.R
Seeing as grocery app usage set a new record usage rate in the first quarter of 2022, it's no wonder many marketers and business owners are quick to hop on the bandwagon. Before you decide to chat up your favorite Mobile App Development Agency about creating one yourself, it's always best to know the possible grocery app development cost involved. 
Remember: most developers tend to overspend when building their apps, regardless of whether it pertains to the cost to build a grocery app or any other on-demand delivery app.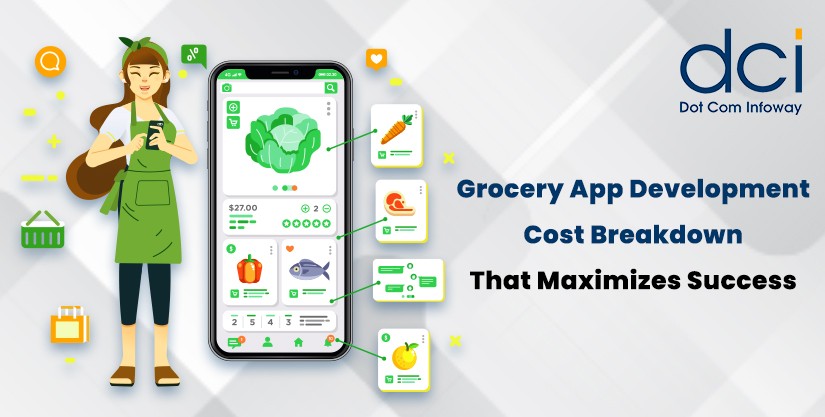 Why Online Grocery Shopping Is an Emerging Industry?
Who would want to suffer through standing for hours in the checkout line, day in and day out? With a grocery app, you won't have to stroll down the aisle to check whether your favorite brand of cereal is available. Imagine how much time that would save in the long run.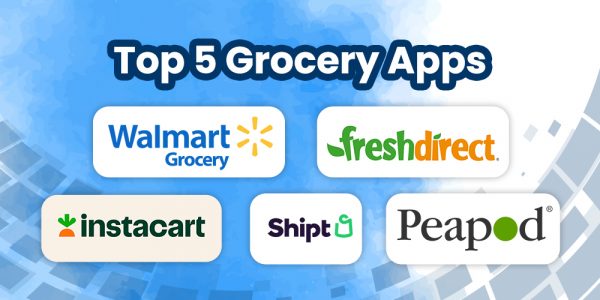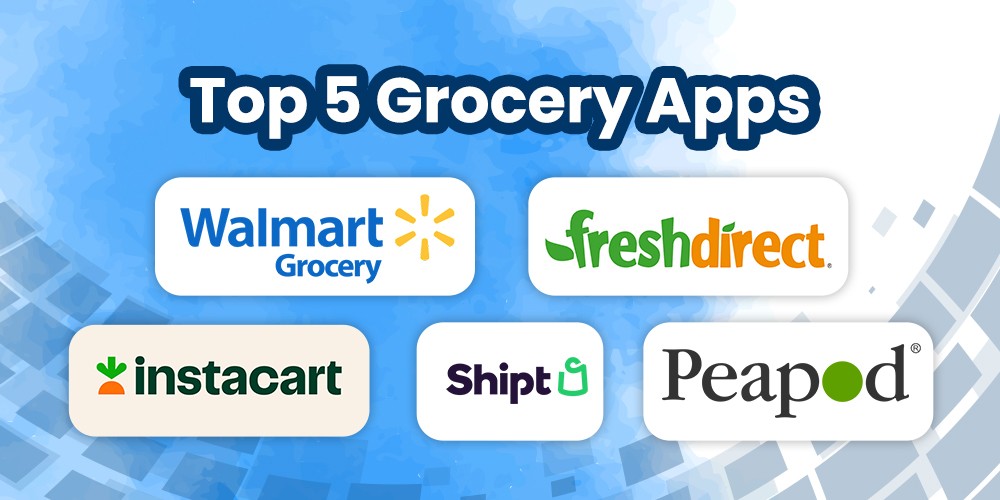 These stats only back their popularity:
Total grocery app users in the US reached 30.4 million in 2022. That's more than a 100% increase compared to five years back when they only numbered 12 million. 

Apps like BigBasket can attest to fulfilling more than 10 million orders monthly. The quartet of Big Basket app developer founded the company in 2011, but it has since been acquired by India's larges conglomerate, Tata Group. 

The US grocery market shares are expected to increase to around $36 billion in 2023. 
Different Kinds of Grocery Shopping Apps
The kind of app you'll develop will have a direct influence on overall grocery app development cost. Here's a list of how each one differs. 
Shopping List Apps
These allow you to create and update lists in seconds without having to manually write each product down every time. You can even share lists with your friends and family and set reminders for when you need to do a grocery run. 
Examples: AnyList, Mealime
Price Comparison Apps
In the same way that you surely mean to keep the cost of grocery app development at the minimum, people also love to save every penny when buying their essentials. These apps help them by offering a comparison list of every product offered in every store available.
Examples: ShopSavvy, Baskey Savings
Grocery Delivery Apps
You get to shop entirely online and let someone handle fetching and delivering the groceries to you. Some grocery store delivery apps don't limit themselves to just one store, which heightens convenience. 
Examples: Walmart Grocery, Instacart
Grocery Rebate Apps
These apps also help save money for users since it's focused on sharing all the coupons and deals available. They also let you claim cashback and even provide a way for you to earn on the side. 
Examples: Ibotta, Shopkick
Coupon Apps
As their name readily suggests, these apps let you collect coupons and be automatically notified when they're available. You can use coupons, assuming they're still valid, anytime. You can see many of these apps pairing with a food delivery app.
Examples: Rakuten, Checkout 51
eCommerce Apps
If you mean to build BigBasket like apps, then these are the types of apps you should be focusing on. These arguably have the largest scope out of all these types, since it basically entails building an app that will act like a complete online store. 
Examples: BigBasket, Shopify
The Grocery App Development Process with a List of Essential Features
The features are grouped based on the kind of shopping grocery app you're going to develop. They're as follows:
Customer-Centric
These can be any grocery online shopping app or any app that's focused on helping people with their groceries.
Common Features: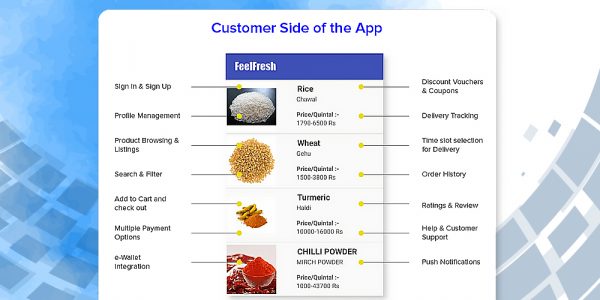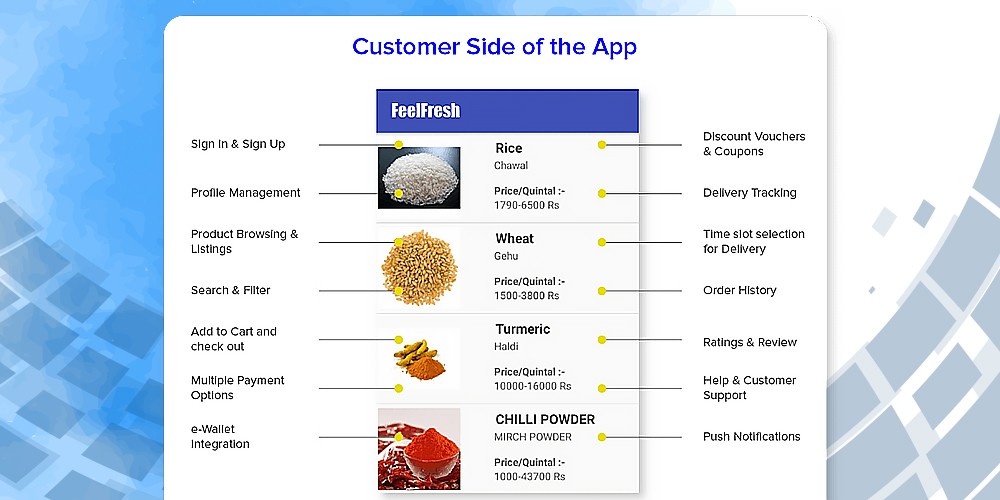 Must-have features include:
Advanced Search Filter

People want to be able to quickly know whether a certain product/s based on categories is available by typing it out. Filters can be based on categories (e.g. fruits, vegetables, snacks, meat, etc.) and prices

Cart Management

The online grocery shopping experience is never complete without the humble cart. Customers should be able to add/remove and manage items easily. 

eWallets

A standard grocery delivery service app should be able to offer clients many ways for them to pay or barter coins they earn. Integrate e-wallets that are frequently used. 

Customer Support

People rely on an app to get groceries delivered because they want support and convenience. That support should extend beyond just grocery shopping and making deliveries, hence, the need to integrate chatbots or other applicable, practical solutions.
---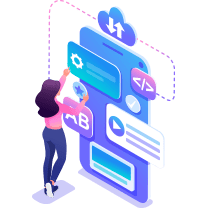 Searching for a Grocery App for Your Company?
For the purpose of managing the entire process, we create robust and secure back-end admin dashboards. Start developing a grocery app for your company today to boost online sales.
---
Delivery Agent-Centric
On-demand grocery delivery will need you to pay attention to features catering to both the user and delivery person. Be sure to include these fundamentals:
Geo Map Integration

Apps frequently use Google Maps and GPS to pin the store and client's location for ease of delivery. 

Time Slots

Customers should always be given the freedom and convenience to set the best time for their groceries to be delivered. These also help delivery personnel manage their delivery schedules. 

Customer Signature

There should be a quick and effective way for the customer to confirm that their goods are delivered correctly. 

Chat and In-App Call Features

Direct communication between delivery staff and shoppers is a must to promptly know if there are no items available or if the delivery rider happens to get lost. 
Vendor-Centric
Grocery apps that cater more to the seller should always have these two essential features:
Manage Items

There should be a straightforward way for store owners to keep tabs on their items, especially when it comes to arranging them, updating their prices, and setting the minimum order amount. 

Order Notification

The sooner the vendors know when an order has been placed, the better. 
Admin Panel
Any developer should be as concerned about this as grocery delivery app development costs since proper business management won't be possible otherwise.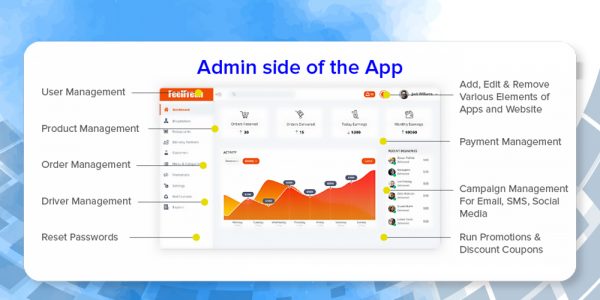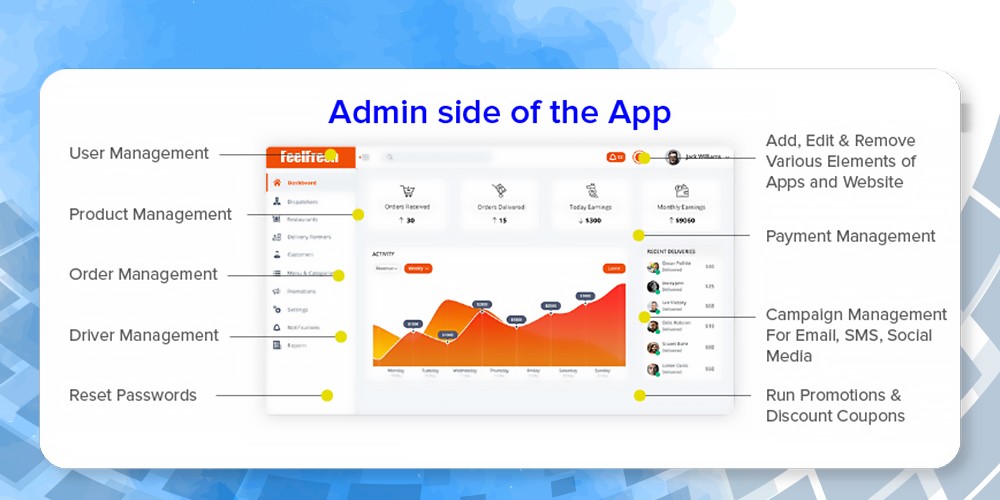 Don't miss out on these advanced features:
Manage Payments

Every transaction, tax, and commission should be easily available and manageable, preferably in a dashboard. 

Manage Inventory

A good ecommerce app development company knows the vital role that inventory management plays. It's basically a backbone of success since it allows you to stay in the know regarding every product in your catalog. 

Manage Campaigns

Marketing come hand in hand with vendor apps so there should be options to run basic email and social media marketing campaigns. 

Reports and Analytics

Optimizing sales and conversions is hard without having consistent access to customer and campaign performance thru real-time analytics and reports. 

Cost Estimations
Now that all auxiliary factors have been laid out, it's time to discuss the actual grocery app development cost. We'll be giving average figures. 
Technical documentation needs $1,500

Testing needs around $3,000

UI/UX requires $2,250

Front-end and back-end development amount to $15,000
Conclusion
To sum everything up, when anticipating grocery app development cost or the cost to develop a mobile app in general, consider the niche's state first, and look at the available types you can create and how they bring value. 
If you're lost, you can avail of mobile app consultation services, especially those that specialize in mobile app development for startups and marketplace app development. 
FAQs
Why do grocery stores need a grocery delivery app?

They get to enjoy better reach, make it less difficult to reach out to and support their clients, and lighten management loads. 

How does a grocery app work?

Grocery delivery apps let you order groceries from the app, then designate someone to pick it up and deliver it to you. 

What are the top features of grocery mobile app development?

Regardless of online grocery app development cost, must-include features are advanced search, cart management, profile management, delivery tracking, and browsing, to cite a few. 

Which company provides the best grocery app development service?

Being the top mobile app development agency, Dot Com Infoway has worked with numerous grocery stores and delivery services in the past to great success, as proven by our portfolio, and continues to do so at present. 

How much does it cost to develop a grocery delivery app?

When considering grocery app development cost estimation, remember that the average is around $100,00.
Related Articles: